[ … and when we say 'rock' we don't mean the good kind of rock ]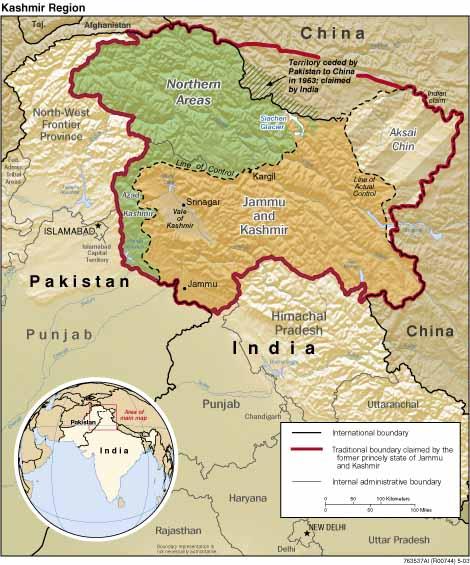 The Conflict
A cartoon published in an American newspaper in 2002 showed former president George Bush sitting behind his desk in the Oval Office,
utterly confused by a news report he was reading about India and Pakistan going to war over Kashmir.
"But why are the two countries fighting over a sweater," he asked Dick Cheney who stood by with his usual sly smile on his face.
Besides reflecting the intellectual capacity of the American president of the time,
the cartoon was a realistic portrayal of the understanding that American leaders have generally shown of this longstanding dispute between Pakistan and India.
The unresolved Kashmir conflict has rocked South Asia for six decades.
It has created an environment of distrust and acrimony,
forced the people to sink into poverty with bulk of the resources consumed by the war machines and claimed lives of hundreds of thousands of innocent civilians as well as soldiers who died in the three wars fought between India and Pakistan.
India, whose forcible occupation of Kashmir in 1947 created the conflict,
refuses to settle it.
The other stake holders, the Kashmiri people and Pakistan, insist on a fair solution.
The international community including the US and the United Nations played little or no role in diffusing it either.
Consequently, the conflict has developed into one of the most intractable problems of international politics that remains a continuing threat to peace of the region.