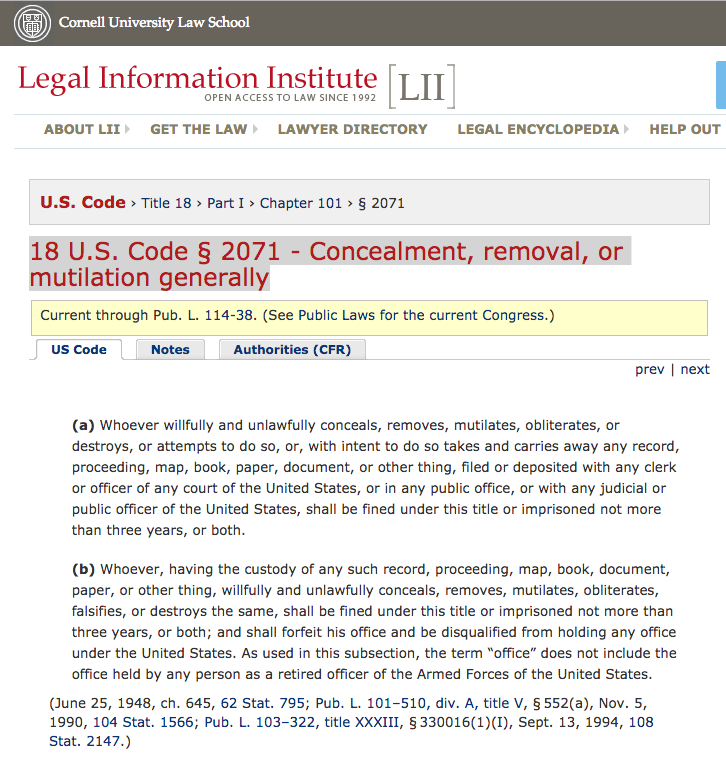 Hillary R. Clinton is disqualified from holding any office in the United States
TMR Editor's Note:
Sometimes TMR finds the best blogs posted in the form of comments under our various articles found at other alternative news websites.
Such is the case with the following post. What Ralph has done is simply followed the law, as in the relevant federal statutes which categorically apply to Hillary Clinton's admitted direct actions pertaining to Emailgate.
By going right to the core statutes, it ought to be clear — even to those exceedingly corrupt lawyers and lawmen at the FBI — that Candidate Clinton should be barred from holding public office in the United States of America.  Case closed.  Forever!
For anyone who doubts such a self-evident proclamation, the references listed below effectively constitute the basis for a very serious citizen's indictment.  The volumes of incriminating information and damning data now found on the Internet regarding Ms. Clinton's official misconduct and many wrongdoings indicate that the Federal Bureau of Investigation is also in on this all-too-obvious cover-up.
Hillary Clinton's High Crimes and Sordid Scandals, Financial Fiascos and Political Debacles
Anonymous summarizes & documents 30 year crime spree of Hillary Clinton
The Clintons: Just how many bodies are there?
Hillary Clinton: The True Story That Will Terminate Her Presidential Aspirations
Hillary Clinton Has Enabled A Sexual Predator Husband For Decades
Why is the Clinton Emailgate Scandal so HUGE?
Clinton and Obama, the Arab Spring and the Creation of ISIS
The Clinton Foundation: A Typical 'CIA-Directed NGO' That Is Completely Above The Law
The foregoing list of high crimes and felonies only represents what we know about the Clinton Crime family, as all of this material can be found in the public domain.  Therefore, the real concern about such a deep and broad rap sheet belonging to a presidential candidate is: How and why do so many Americans still support Hillary Clinton, and so many with fanatical loyalty and devotion.  That, right there, is the real shocker! ! !
The Millennium Report
October 7, 2016
Reference
HILLARY CLINTON: The Most Dangerous Presidential Candidate in U.S. History
~~~~~~~~~~~~~~~~~~~~~~~~~~~~~~~~~~~~~~~~~~~~~~~~~~~~~~~~~~~~~~~~~~~~
Sometimes the hard truth appears in the funniest places … like a Law Library.