There is some question as to whether this is misinformation or not…
Since, as per usual, most news outlets are repeating the story without question, we've done a little digging back to the source…
Below are links to several items on the subject. The real concern here is that while the soldier has the ability to choose "honour" when captured or cornered, the observers-from-afar can view the action in real-time and they too have a kill-switch under their thumb.
Anyone want to sign up?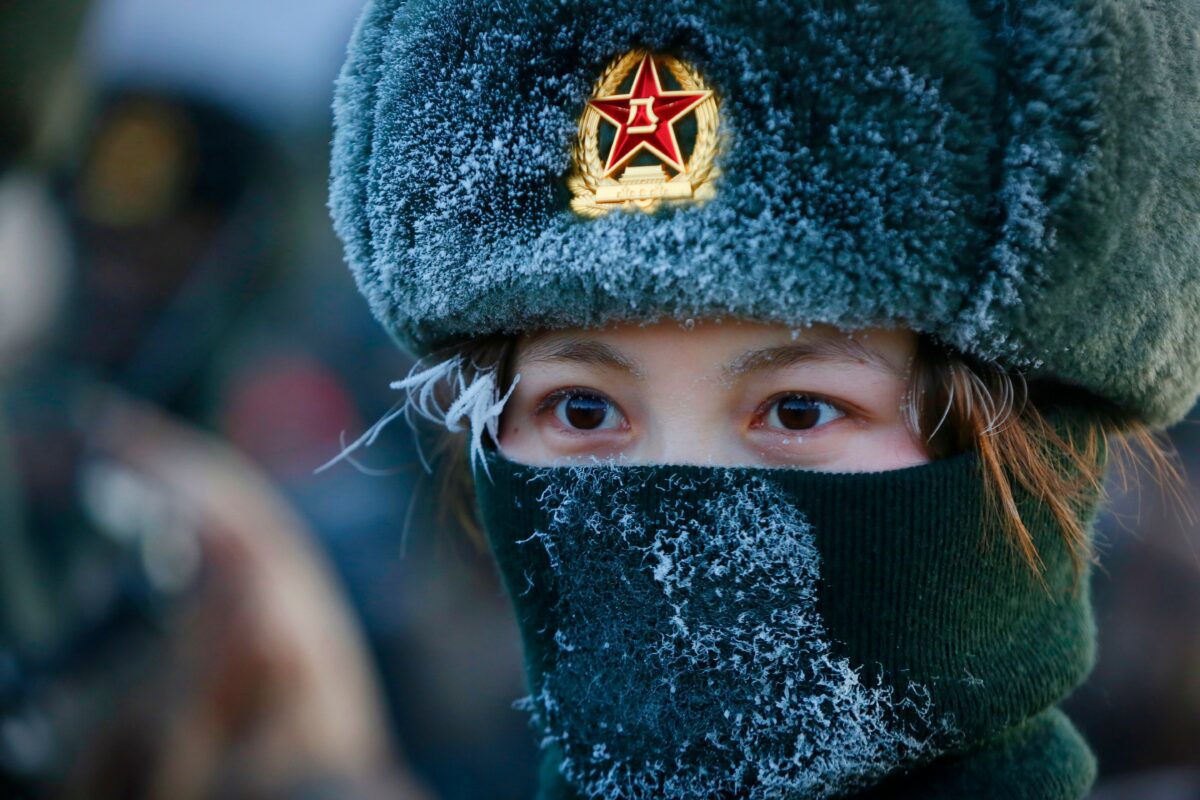 China Develops Helmets for Soldiers With Self-Destruct Button: Report (theepochtimes.com)
"There are comments that the CCP's individual soldier information system has a self-destructing device that shows that the CCP's breakthrough to the human bottom line is no different from terrorists. The CCP can self-destruct the system only by detonating the hardware, which will undoubtedly hurt the soldiers. This self-destructing device can be remotely controlled and is completely the act of a human bomb.
Netizens lament: There are no soldiers, only cannon fodder!
Some netizens said: "This is too ruthless. Keep away from the team and be detonated by the commander. This is a typical control technique for future operations. They are afraid of soldiers running away, pretending to be dead, or rebelling. Anyway, they refuse to be cannon fodder."
Some netizens left a message saying: "In the past, the Communist Army asked each soldier to keep a grenade for himself. Before he was captured, he would squeeze and die with the enemy. It was also called "Glorious Bomb". It was really inhumane. Party spirit was more human. Human life is still important!"
Regarding the CCP's behavior that life is like grass, some netizens said that before American soldiers set off, the government prepares a surrender letter printed in more than a dozen languages ​​for each soldier. On the battlefield, once outnumbered, in order to protect the lives of soldiers, soldiers can hold up this surrender letter and request life protection in accordance with international practice."
The CCP equips soldiers with "self-destructing devices" 7 years ago, they were equipped with female soldiers | Tibet Military Region | Individual Soldier Digital Combat System | China-India border conflict – World Today News (world-today-news.com)
The following contains an odd mix of "high conspiracy" (genetically modified soldiers…Galactic Command…?) and skepticism on the subject:
CHINA REPORTEDLY EQUIPPED ITS SOLDIERS WITH "SELF-DESTRUCT HELMETS", LIKELY TO PROTECT ITS SUPER SOLDIER SERUM
On January 2nd, American media reported that Chinese troops along the Tibetan border have been equipped with state-of-the-art equipment, including a helmet with a "self-destruct" function.
It should be mentioned that despite being in Chinese, New Tang Dynasty Television is a multilingual American television broadcaster, founded by Falun Gong practitioners, based in New York City.
This relates to the PLA recently providing with a digital individual combat device worn on soldiers' heads developed by the Tibet Military Region, which claims to directly provide guidance for artillery and aviation.
"This equipment system is also equipped with a self-destruct device that can be activated remotely by the commander, claiming that this is to "maintain military dignity" and prevent system information leakage."
On December 27th, 2020, CCTV Channel 13 of the Communist Party of China broadcast a piece of military news, introducing an information-based comprehensive combat exercise conducted by a light and high-mobility synthetic brigade on the plateau of the Tibet Military Command at an altitude of more than 4,500 meters.
In the exercise, this unit demonstrated a new high-tech equipment introduced by the Chinese Communist Party—a new generation of digital individual combat system.
According to Lu media reports, the deployment scope of this new type of digital combat system for individual soldiers includes special forces, ordinary squad infantry, artillery, army aviation, and armored forces.
It is said that this individual digital combat system has the capability of "battalion commanders directly command individual soldiers" and "individual soldiers directly provide guidance for artillery and aviation."
According to the information disclosed by the CCP Military Network, this single-soldier digital combat system is equipped with satellite antennas on the helmets worn by soldiers, equipped with a monocular night vision multi-function eyepiece, and a numerical control terminal on the arm.
In terms of protective gear, in addition to providing bullet-proof protection to soldiers, the device also integrates a navigator, individual radio, camera module, audio converter, information processing and power supply module.
"More importantly, this system is equipped with a self-destruction device. If a soldier is seriously injured but does not want to be captured, activating the self-destruction device will not only maintain the dignity of the soldier, but the enemy will not be able to obtain any information about this system," the US-based NTDV reported. "Another self-destructive method is in the battalion-level command post. If the commander finds on the screen that the individual soldier is farther away from other troops, but cannot be contacted. If you're a soldier, it will also initiate self-destruction."
The report generated huge backlash online as netizens lambasted the dehumanizing mechanism. Some noted that soldiers should be allowed to surrender under international humanitarian law….READ MORE
These guys also found cause for skepticism:
New self-destruct system installed for Tibetan troops: Chinese media | Apple Daily
"Tibetan troops are now equipped with a new digital combat system, which comes with a self-destruct mechanism that can be remote-controlled by senior officers, according to Chinese media.
Chinese news website Guancha reported that the new system will be applied widely, including to the special forces, foot soldiers, artillerists and air corps. The system provides command and control, communication, camera modules, audio conversion and information processing. Soldiers' helmets will be equipped with satellite antenna and multi-function night goggles, while a terminal is attached to their arms…
….Apple Daily did not find any reference to the self-destruct mechanism in the original report…article was likely exaggerating to attract clicks and the report could be inaccurate, he added."
To conclude:
While I am a rather outspoken opponent of the CCP (and a supporter of Falung Gong/Falung Dafa) it's important to follow the facts. There are some logic flaws in the self destructing helmet story, as already pointed out. A hacker could destroy a whole battalion with one mouse-click!
On the other hand, since the whole thing started with Chinese media reporting, it could be a deliberate disinformation plant designed to sow confusion. I'm certainly confused, so I guess it worked!!
I'm not ready to dismiss the story entirely, but it is questionable. MH