By: D. H. Williams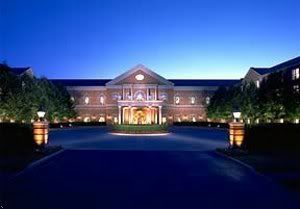 The world's power elite arrived in Chantilly, VA today commencing four days of super secret talks. These meetings are attended by 125 of the most elite persons in the world. Membership includes presidents, prime ministers, royalty, directors of the world banking cartels, top media, military and industry executives and considered the most powerful decision making group in the world. Since the first meeting held in Holland at the hotel de Bilderberg in 1954 this internationalist group has met every four years; however they have been meeting annually as of late.
The hotel in Chantilly is surrounded by security forces from the United States, China, and Europe. It has been reported that passersby and motorists in the vicinity of the Westfield Marriott are being stopped and interrogated. Anyone who dares approach the meeting site who is not directly associated with the Bilderberg Group can expect to be followed and surveiled by multiple intelligence agencies providing security.
Perhaps the most astounding fact of these meetings in not a word about it will be broadcast by CNN, MSNBC, ABC, or the Fox News Network. Achieving a virtual media blackout is an indication of the power these members have over what is touted as a "free" press. Fortunately alternative media and members of the blogosphere are reporting on these happenings and are known to have inside sources that have provided reliable information in past years.
Inside sources this year indicate the elites are discussing a possible air attack on Iran. There are also leaks about Bilderberg members fighting over whether or not to implode the U.S. Dollar and send the United States into a depression.