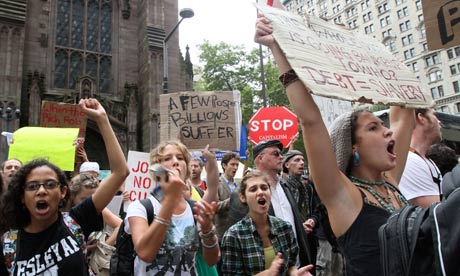 1- CLOSE YOUR BANK ACCOUNTS
Do not continue to play their game, switch to a credit union or cash only. Go. Do it now.
2- TELL OR DISCUSS THIS MOVEMENT WITH 5 DIFFERENT PEOPLE EVERYDAY!
3- PRINT FACTUAL BASED FLIERS OR STICKERS
Mention the factual information – place, time, general assembly time, etc
4- PLUG THE MOVEMENT ON YOUR LOCAL RADIO STATIONS
Call in to be on the air "request a song" and then plug your local movement.
5- WRITE TO YOUR LOCAL MAYOR, DO THIS ONCE A WEEK.
Some of us have gotten personal emails back, get into a 'debate' with your mayor – outsmart them !!
6- DONATE – DONATE – DONATE – DONATE – DONATE- DONATE- DONATE
The only way this will continue is if we do our part financially.
As time progresses, more accountability will apply to funds transparency.
Be patient, be generous, be smart.
7 – SEND PIZZA – DELIVERY FOOD/PLACES – COFFEE
Hungry protesters are unhappy protesters.
Unhappy protesters are angry protesters.
Angry protesters make decisions that could be better on a full tummy.
8 – SEND DONATED GOODS/ CARE PACKAGES THROUGH SNAIL MAIL
Put together a care box much like get sent to soldiers.
These are our soldiers in a revolutionary war – send letters of support, baked goods, love, socks, blankets
– anything you think they could use!
9 – DONATE TO THE LIVESTREAM – THIS IS A VITAL PART OF EACH OCCUPATION.
Without Live taping – we are left with only prerecorded and mainstream news.
In other words – not a lot of information – it is VERY important to donate to these brave souls.
10 – GO THERE NOW! GO THERE TOMORROW! GO THERE TODAY! GO THERE ON THE WEEKENDS! GO THERE NOW!
96% of all protesters have NOT been arrested, the likliehood is that you will be fine, safe and have a great time.
Being surrounded by others that are awake like you is hopeful, inspiring, awesome and very heartwarming.
Make the effort!
11 – CONTACT LOCAL ORGANIC FARMS THAT DELIVER PRODUCE
How totally awesome would this be? Set it up for once a week, twice a month or however you can afford it.
12 – TAKE OUT ADS IN YOUR LOCAL PAPER UNDER "ANNOUNCEMENTS"
Not everyone is online.
13 – PARTICIPATE IN CIVIL DISOBEDIENCE WHENEVER YOU CAN.
Post a poster illegally, write with chalk on the street, hang a banner – so much more you can do – be creative.
14 – SET UP FUNDRAISERS IN YOUR LOCAL AREA.
Car washes, bakery sales, auctions etc – donate all proceeds to your local occupation.
Anything we can all do is SOMETHING. That is more than NOTHING.
So if you feel helpless and wish you could do more – pick one of the above actions and do whatever you can.
If we all make an effort in whichever way works for us – this movement will only grow.
Thank you for your time! Much love to each 99% er.