I've had feedback on the images in this scenario that something isn't right with the picture. too  posed, too cleanout, like a movie scene. A pistol like that, wouldn't it more of a mess at close range?
Any opinions on this?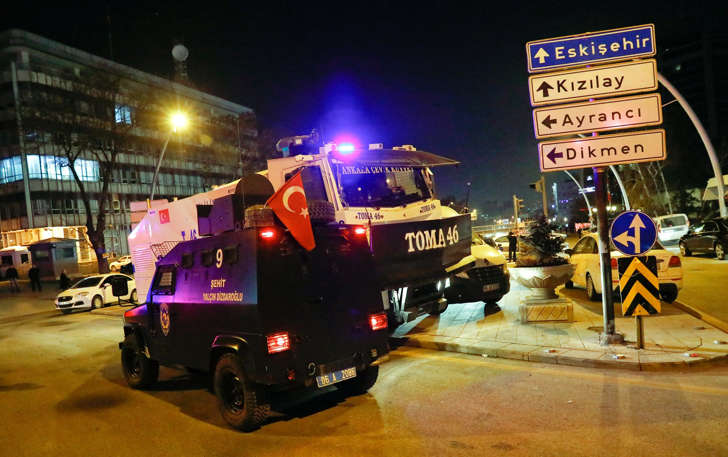 © REUTERS/Umit Bektas Turkish police secure the area near an art gallery where the Russian Ambassador to TurkeyAndrei Karlov was shot in Ankara, Turkey, December 19, 2016. The Russian ambassador to Ankara has been killed in a gun attack at an art gallery in the Turkish capital, the Russian news agency RIA Novosti reported.
Reports said Andrei Karlov was attending the opening of an exhibit at a contemporary arts centre when he was attacked. Karlov was several minutes into a speech at the exhibit when a man shouted "Allahu Akbar" and fired at least eight shots, according to an AP photographer who was present.
The attacker also smashed some of the photographs, AP reported. A source told RIA that Karlov had died at the scene.
Turkey's NTV reported that the gunman had been killed by police.
Turkish officials said the gunman had entered the building claiming he was a police officer. Other bystanders alleged he shouted "Aleppo" when he shot Karlov, but the claims could not be immediately confirmed.
© AP The man behind Russian Ambassador to Turkey Andrei Karlov is believed to have pulled out a gun seconds after this photo was taken. The attacker was said to have first shot Karlov in the back, before ordering people to leave the room. He then reportedly fired a second time as Karlov lay on the floor.
The Russian foreign ministry said it was in contact with Ankara over the events, RIA Novosti reported. President Vladimir Putin called an urgent meeting with the foreign minister, Sergei Lavrov, and the heads of the security services.
The ambassador had been part of discussions between Turkey that led to an evacuation of east Aleppo getting under way late last week. He had also been a central conduit to the Turkish government's rapproachment with Moscow in April.
The Turkish foreign minister, Mevlüt Çavuşoğlu, was due to travel to Moscow on Tuesday for talks with Russian and Iranian counterparts
Russia and Turkey have recently gone some way towards mending ties after a freeze in relations after Turkey shot down a Russian fighter plane in November 2015.
Fatih Öke, the press attache of Turkey's embassy in Washington DC, tweeted: "The bullet to Ambassador Karlov is not only aims him. It aims also Turkish Russian relation."
Karlov was a career diplomat who had previously served as ambassador to North Korea.
More details to follow …
Russian ambassador to Turkey Andrei Karlov shot dead in Ankara
A Turkish policeman has shot dead Russia's ambassador to Turkey, Andrei Karlov, apparently in protest at Russia's involvement in Aleppo.
The killer has been identified as Mevlut Mert Aydintas, 22, a member of the Ankara riot police. It was not clear if he had links to any group.
The incident happened a day after protests in Turkey over Russian support for Syrian President Bashar al-Assad.
Turkey's president said the attack was aimed at hurting ties with Russia.
Recep Tayyip Erdogan spoke to Russian President Vladimir Putin by phone and, in a video message, said that they both agreed it was an act of "provocation".
He said that those who wanted to harm relations between the two countries "would not achieve it".
In televised remarks, Mr Putin said the act was "undoubtedly a provocation aimed at disrupting the normalisation" of bilateral ties and the "peace process in Syria".
A group of Russian investigators will arrive in Turkey to look into the case, Mr Putin's spokesman Dmitry Peskov said.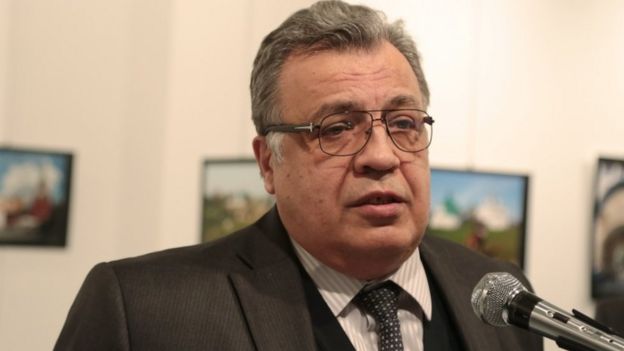 The UN Security Council strongly condemned ambassador Andrei Karlov's murder, while Secretary-General Ban Ki-moon said he was appalled by "this senseless act of terror".
While there were protests in recent days about the situation in Aleppo, on a political level the Turkish and Russian governments have been co-operating in the ceasefire operation, the BBC's Turkey correspondent, Mark Lowen, reports.
Before the attack happened, a meeting of the Russian, Turkish and Iranian foreign ministers had been planned for Tuesday in Moscow.
But now it seems the political fight over Syria's future has spilled over into public hatred, our correspondent says.
The attack was swiftly condemned by other countries:
US Secretary of State John Kerry: "We stand ready to offer assistance to Russia and Turkey as they investigate this despicable attack, which was also an assault on the right of all diplomats to safely and securely advance and represent their nations around the world"
UK Foreign Secretary Boris Johnson: "Shocked to hear of despicable murder of Russia's ambassador to Turkey. My thoughts are with his family. I condemn this cowardly attack"
German Interior Minister Thomas de Maiziere said his country stood with Turkey in a common fight against terrorism
French President Francois Hollande "strongly" condemned the killing
The movement of US-based cleric Fethullah Gulen has also condemned the attack and rejected any links to the attacker, according to an adviser quoted by Reuters news agency. Turkish officials blame the movement for July's failed coup aimed against Mr Erdogan.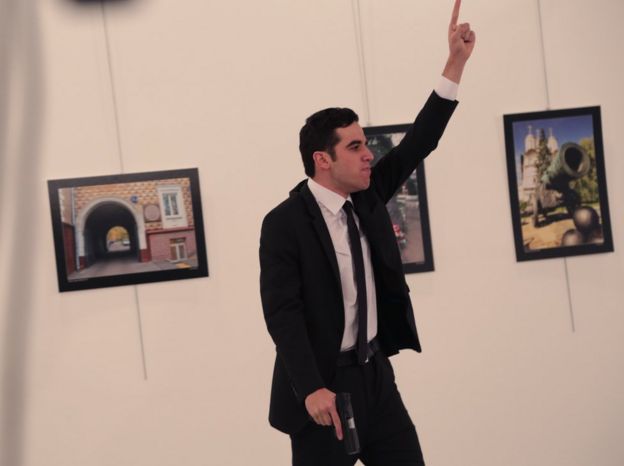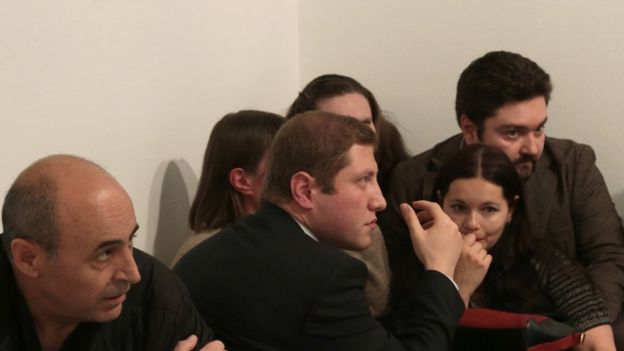 The ambassador had been attending a photo exhibition called "Russia as seen by Turks".
Video of the event shows Mr Karlov making a speech when gunshots ring out. Eight bullets are said to have been fired.
The camera pulls back to show a smartly dressed gunman, wearing a suit and tie, waving a pistol and shouting in Arabic and Turkish.
He can be heard yelling "don't forget about Aleppo, don't forget about Syria" and uses the Arabic phrase "Allahu Akbar" (God is great). He is said to have died in a shootout with police soon afterwards, but details have not been given.
Mr Karlov was rushed to hospital but his death was later confirmed by the Russian foreign ministry.
More:https://www.bbc.com/news/world-europe-38369962