David Rockefeller, Banker, Philanthropist, Heir, Dies at 101
by
and
Heir to famed fortune was world's oldest living billionaire

Youngest grandson of Standard Oil founder John D. Rockefeller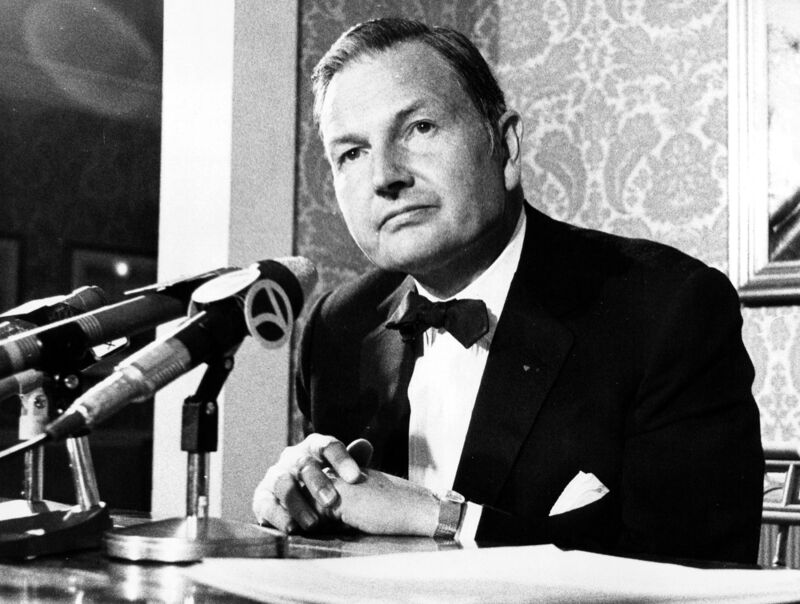 David Rockefeller, the U.S. banker, philanthropist, presidential adviser and heir to one of history's most fabled fortunes, has died. At 101, he was the world's oldest billionaire.
He died Monday at his home in Pocantico Hills, New York, according to an emailed statement from Fraser P. Seitel, a family spokesman. The cause was congestive heart failure.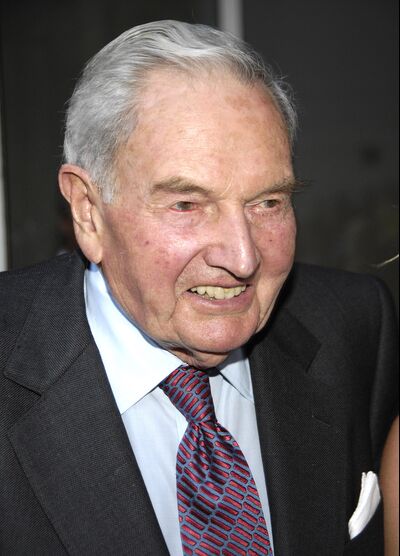 Rockefeller was the youngest and last-surviving grandson of Standard Oil founder John D. Rockefeller, the nation's first billionaire. He was the only one of John D. Rockefeller Jr.'s five sons who spent his entire professional career in the corporate world, rising to chief executive officer of Chase Manhattan Bank during his 35 years at the company.
He was also a confidant of world leaders, from Deng Xiaoping in China to Nelson Mandela in South Africa, from the shah of Iran to Henry Kissinger. Rockefeller famously asked President Jimmy Carter to let the deposed shah come to the U.S. for medical treatment, leading to the seizure of American hostages in Tehran from 1979 to 1981.
Rockefeller was equally well known for his philanthropy. In 2006, he bequeathed $225 million to the Rockefeller Brothers Fund, which he and his brothers established in 1940 to promote social change worldwide. The year before, he donated $100 million each to two New York institutions: the Museum of Modern Art, which was co-founded by his mother, and Rockefeller University, a medical-research school started by his grandfather.
"No individual has contributed more to the commercial and civic life of New York City over a longer period of time than David Rockefeller," former New York Mayor Michael Bloomberg said in a statement. "During my time in City Hall, he was always there for the city when we called," said Bloomberg, the founder and majority owner of Bloomberg News parent Bloomberg LP.
In 2008 Rockefeller gave $100 million to his alma mater, Harvard University in Cambridge, Massachusetts.
"The range of David Rockefeller's business and philanthropic and political connections is perhaps unequaled," said Ron Chernow, the author of "Titan," a 1998 biography of John D. Rockefeller.
David Rockefeller's death closes a chapter in the family's storied history. Known simply as "The Brothers," David, Laurance, John, Nelson and Winthrop traversed the intersecting worlds of business, politics, philanthropy and the arts as no other U.S. family had ever done.
The Brothers
Laurance, who died in 2004, was a venture capitalist, environmentalist and adviser to five U.S. presidents on conservation. Nelson, who died in 1979, was the four-term New York governor and U.S. vice president under President Gerald Ford. John D. Rockefeller III, the oldest brother who was killed in a 1978 automobile accident, led the fundraising effort to develop New York's Lincoln Center for the Performing Arts. Winthrop, who died in 1973, was the former governor of Arkansas.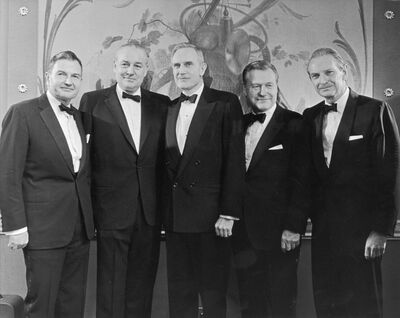 Their sister, Abby Rockefeller Mauze, known as "Babs," died in 1976.
Once the nation's wealthiest family, the Rockefellers today pale in comparison with 21st century tycoons such as Microsoft Corp. co-founder Bill Gates or investor Warren Buffett.
Rockefeller once joked that he was the only Rockefeller of his generation who had to "work for a living." He was either chairman, president or CEO of Chase from 1957 to 1981, creating a global financial institution, traveling to 103 countries and meeting with dozens of presidents, kings and prime ministers. He accumulated about 150,000 names in an electronic Rolodex.
"Because I started sooner, I think I probably knew more heads of state than anyone else, possibly with the exception of Henry Kissinger, but maybe even including" him, Rockefeller said in a December 2003 interview.
Rockefeller was criticized for meeting with dictators including Cuba's Fidel Castro and Iraq's Saddam Hussein. A member of the Council on Foreign Relations for more than 60 years and its chairman for 15, Rockefeller was also a frequent target of conspiracy theorists because of his membership in secretive international policy groups such as the Trilateral Commission and the Bilderberg Group.
"Maybe in another 20 years I'll outlive all my bad press," Rockefeller said in the interview.
At Chase, he outlasted rivals, scandals, operational problems and board pressure to retire on schedule at age 65. Today, Chase is part of JPMorgan Chase & Co., the biggest U.S. bank by assets, after Chemical Banking Corp. acquired Chase in 1995. The combined company added J.P. Morgan & Co. five years later and Bank One Corp. in 2004.
REST HERE;
https://www.bloomberg.com/news/articles/2017-03-20/david-rockefeller-banker-philanthropist-heir-dies-at-101
THIS IS WHAT I'LL REMEMBER HIM FOR:
…THE PART THE MAINSTREAM NEWS ISN'T SAYING.
(Click on pic. or link below)