A range of Walmart-sold T Shirts is under fire for unfathomable reasons.
by Martin Harris 24/6/20
This shirt is one of a range including "Homeless Lives Matter". "Red Lives Matter" "Black Lives matter" and so-on. Some are apparently tongue in cheek, others making a genuine statement.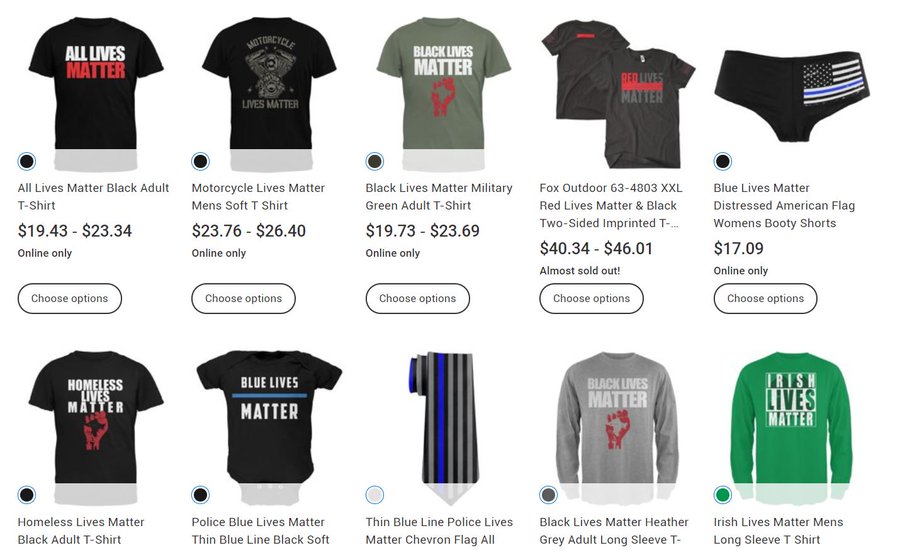 Apparently these variations on the "Lives Matter" phrase are offensive, and none more so than the "All Lives Matter" and "Blue lives Matter" variants. (Blue refers to the Police).
Beth MacDonnell@bethmacdonnell
Hey, @Walmart @WalmartCanada can you explain why you're selling "All Lives Matter" and "Blue Lives Matter" shirts on your website? Who approved this?

Remove these now. You should be ashamed.#BlackLivesMatter

Protestor Beth MacDonnell on Twitter
So I'm suggesting they add another to their range with the phrase "What's The Matter?".
Surely, all life matters, regardless of race or skin color or occupation? As does what one one does with that life. Have these alleged do-gooders nothing better to do with their own lives than make a racket about such irrelevances as T Shirts making perfectly reasonable statements?