THE GOVERNMENT HAS ALWAYS BEEN THE ENEMY WITHIN.
by G Squared
WE SIT AND ARE STARVED TO DEATH IN OUR HOMES. NO? READ SOME HISTORY AND WAKE THOSE WHO STILL SLEEP.
GOVERNMENT MANIPULATED MOUTHPIECES ARE THE MOST CONTROLLED; IF NOT, THEY WOULD NOT BE WHERE THEY ARE.
THE WORLD SUICIDES BY GOVERNMENT INSTRUCTION.
THE ECONOMIES HAVE ALREADY BEEN DESTROYED. AT WHAT MARK OF IMPENDING INABIITY TO OBTAIN FOOD AND UTILITIES, WILL THERE BE AN AWAKENING.
SCIENCE and LAW are TOOLS they are not RELIGIONS. GOVERNMENT has evolved as The MASTER, not the servant. REPRESENTATIVES serve themselves and are the servants of GOVERNMENT, not THE PEOPLE.
An EU Court just decided that vaccinations cannot be mandated and there can not be discrimination between those vaccinated and those not.
Watch this one get the massage treatment to oblivion. IT DOESN'T MATCH THE PLAN.
You must admire the believers and addicted.
Within 48 hours I wrote what actually occurred to MH-17. I read the true intel from both sides of the wash; spoke to witnesses I could trust, and observed the beginning of the rollout of the fake 'EVIDENCE'. Dutifully carried by owned MSM and AltMedia fools. It's very clear who is and is not owned in the INFORMATION industry.
Some six years later an EU court decides that what I had written was correct. At least indirectly. I really don't give a shit. Subsequent to the first court decision: another one decides that The American False Flag FAKE NARRATIVE was CORRECT. They can't be saved.
I often refer to teaching a cat to speak French. If the industry of law is not a science and not an art, by function and definition; then by function it must be a social presumptive. A believable accoutrement of The Power Base, and as essential. As assumed as Government serving the alleged representatives of The People. The Industry of Law and The Representatives of The People being controlled by Government.
As with The CIAJFK Murder-Coup, and The 9/11 and Benghazi False Flags etc.: interviews and news reports were underway, BEFORE THE EVENTS OCCURRED.
So which court decision was right. Or is there some intellectualized, moralized contortion that gives a digestible confection for the addicted.
A steam train has broken down. So the believers put their heads out of the windows and start shouting; CHOO CHOOO.
NATO and America bomb Kosovo. Then they bomb Serbia and say The Serbs did it. Forget even The CIAKLA and all those realities, And apart from the insanity of the de facto American president of the time.
America and NATO (UK and France as willing accessories) gassed the civilians of Ghouta, Khan Sheikhoun, and a number of other places. They placed canisters with shameless American coded lab markings, in the target areas, and bombed the hospitals in the regions. I saw the original unalterd photos of the tragedy. As I had with Sabra and Schatila and many other such events, going back to The Vietnam Atrocity conducted by America and cohort gangsters.
The people in surrounding areas were told that The Syrian Government was going to bomb where they were, and they should move into that other area. Within hours of moving the people; America and NATO bombed the designated areas rupturing the hidden and camouflaged canisters. Murdering those who believed.
Accessories; UN White Hat Peacekeepers; supplied photographs as EVIDENCE that Syria bombed its own people. The canisters had the markings hidden, were moved by White Hats, but were postured to have erupted without surrounding physical damage. No wall markings, upright canisters not ruptured, and no broken windows near them. Apart from not being dropped by aircraft. I am reminded of the pristine passports shown as EVIDENCE for The MH-17 False Flag. HOW? Can it be that the canisters were photographed BEFORE they were allegedly detonated, and having been positioned by White Hats. The UN facilitating a genocide.
There has to be one of two scenarios, and neither fits The American Lie.
Quite apart from the fact that, as Iraq, Syria had no capacity to manufacture the weapons claimed by America. If they came from Russia: that would be blasting the airwaves to this day. 
Syria is all about The Qatar Pipeline, as I have written. War Crimes, Genocides, and Acts of War, don't count if perpetrated by the world policeman, and its definitions of morality and democracy.
So at the end of The American Intervention and genocide in Serbi,; in true Nuremberg Theatre and tradition, Milosovich and Mladic were kidnapped at considerable cost; 'arrested' and tried for The War Crimes committed by NATO, America and UN actors. Parallels to OIL RICH and inconvenient Kurdistan, Iraq, Syria, and Ukraine etc. to follow.
Remember: Korea and Vietnam occurred when Russia, did not appear or abstained from the appropriate Security Council Vote. Subsequently in both instances: Russia acted with China to vanquish America and cohorts from those two adventures. As with all its useless and genocidal wars of self-attrition. Leading to the current scenario of Cuba and Eastern Europe. As I have written.
The same theatre was utilized for the fake Bin Laden Capture; as he was dead before he became Wanted Number One. And of course; stand in; Tim Osman didn't want to play up to execution as; Hussein, Noriega, Guevara, Ghaddafi, McVey et al. Gobachev and Marcos, given shelter in America, confirming their true status. As I have written. CIA Snowden of course did not want to chance it as Boyce. Again: as I have also previously written. 
In 2014: the genocide and allied terror in Ukraine begins with vigour. Three months before a general election; American puppets; Poroshenko and Yatsenyuk mysteriously appear as the people's choice. Anyone heard of The Biden Factor of 2020? NOWHERE IS SAFE.
The currect INSANE political front mouthpieces; FOLLOWING THE SCIENCE AND THE LAW; are puppets of their governments, acting AGAINST THE PEOPLE, they are supposed to represent.
Both Milosovich and Mladic were obviously found GUILTY by American bullshit EVIDENCE, in an American puppet court, and appropriately sentenced, to demonstrate the bullshit Moral High Ground occupied by the real criminals.
Subsequently: Milosovich applies to a Europen Court, that demostrates a modicum of reality. Guess What? They begin kicking out the bullshit charges, with Milosovich facing release and a possible inquiry from somewhere; as a Chilcot.
So you know what happens on the eve of Milosovich being released? YES! HE COMMITS SUICIDE.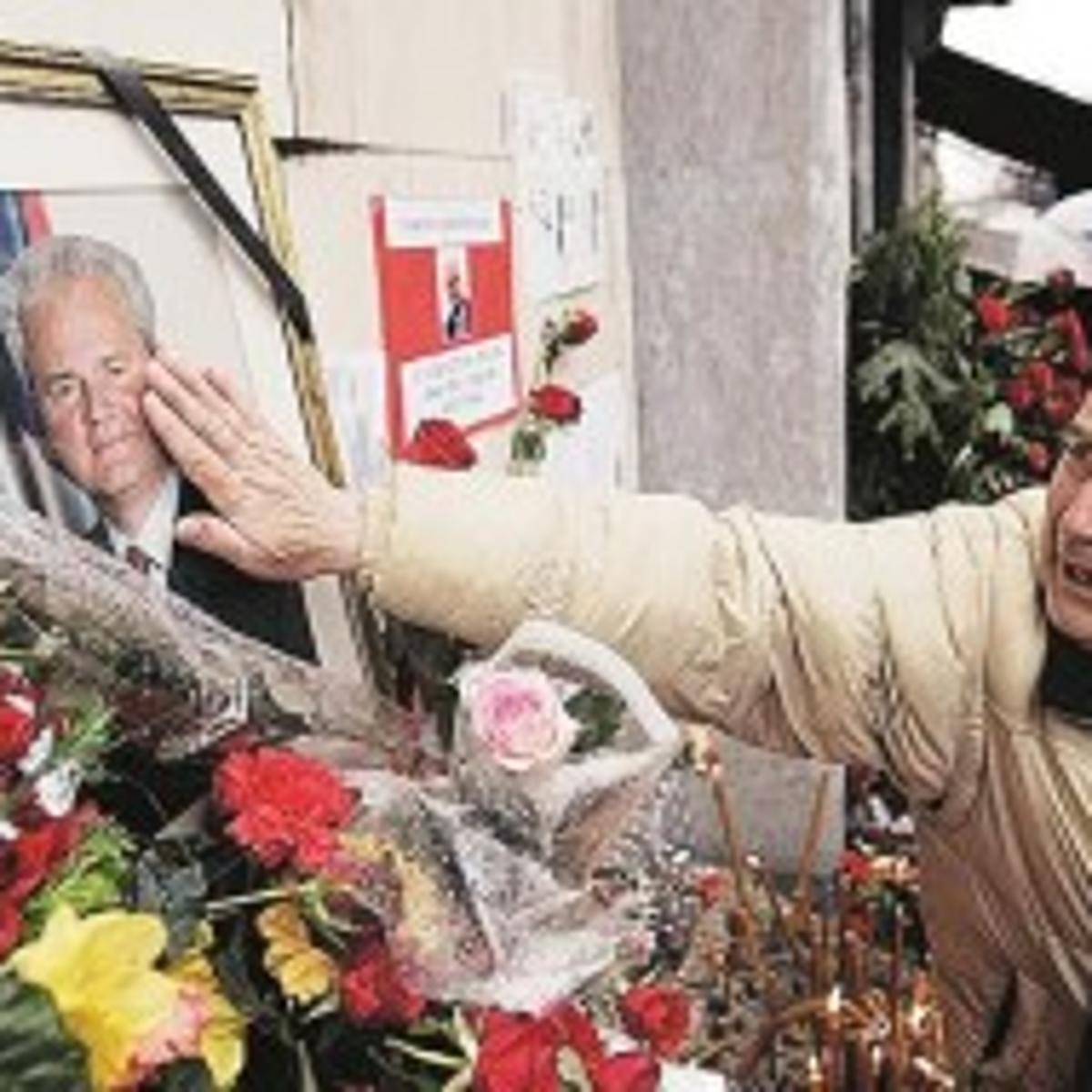 Saville begins making noises for blackmail. In the prior line of events; Moutbatten and Maxwell are cancelled. When Epstein is finally  brought near a court in New York; after he was tapped on the wrist by Barr in South Florida; the signals go out loud and clear that Epstein will be cancelled. I wrote it before the event. No pending blackmail deal for Epstein. Game Over. A direct link into The Royals as well as the elite classes. As Good Bye Diana and many others. Easy.
The covering narratives are always so puerile. Look at the audiences.
Mladic is quickly run to London and kept tighter than the proverbial. I have sent out clips of his being transported from one UK cubby hole to the next. More vehicles and orchestrated security bullshit, than Biden taking a dump.
It's the theatre that counts. Or even when QueMala walks up a staircase to a green screen, non-existent aircraft. 
In The Kurdistan Affair; America gassed The Kurds, with aircraft in Iraqi livery flying from Turkey; twice. I read the reports and spoke to witnesses. Leave me alone. No opinions or propaganda please. Go and play somewhere else.
The world is full of fantasylands. And don't forget that there is compelling photographic 'EVIDENCE' for upstanding Conan Doyle seeing fairies at the bottom of his garden. CHOO CHOOO.