Nuclear threat level hasn't been this high in decades, and with the military industrial complex investing heavily in nuke technologies on both sides of the conflict centred around Ukraine, the fear-meter is climbing.
Russian broadcasters are hyping a nuclear tsunami-bomb threat. Since a tsunami-bomb has been in the works since the 1950s (Project SEAL, tested in New Zealand waters) we can be sure great strides have been made in this weapons technology. Should we be concerned? Indian news channel Gravitas takes an objective look at the situation, while Euronews provides info on what is known (and unknown) about the technology behind the claims. MH
Gravitas: Russian State TV issues a chilling warning
Russian State Television has issued a chilling warning. A news report simulated a nuclear attack against the UK and Ireland. How serious is this threat? Palki Sharma brings you a report. #Gravitas #Russia #NuclearAttack
About Channel: WION -The World is One News, examines global issues with in-depth analysis. We provide much more than the news of the day. Our aim to empower people to explore their world. With our Global headquarters in New Delhi, we bring you news on the hour, by the hour. We deliver information that is not biased. We are journalists who are neutral to the core and non-partisan when it comes to the politics of the world. People are tired of biased reportage and we stand for a globalised united world. So for us the World is truly One.
What is Russia's Poseidon nuclear drone?
What is Russia's Poseidon nuclear drone and could it wipe out the UK in a radioactive tsunami? | Euronews
The Poseidon underwater drone – also known as Status-6 and in the United States as "Kanyon" – is basically a very large, nuclear-powered autonomous torpedo armed with a nuclear warhead.
What we know of it mostly stems from a 2015 leak on Russian TV of a government project for an underwater nuclear drone.
According to its mission statement, the project was focused on "damaging the important components of the adversary's economy in a coastal area and inflicting unacceptable damage to a country's territory by creating areas of wide radioactive contamination that would be unsuitable for military, economic, or other activity for long periods of time".
In 2018, a leaked draft of the Pentagon's Nuclear Posture Review acknowledged Russia was developing a "new intercontinental, nuclear-armed, nuclear-powered, undersea autonomous torpedo".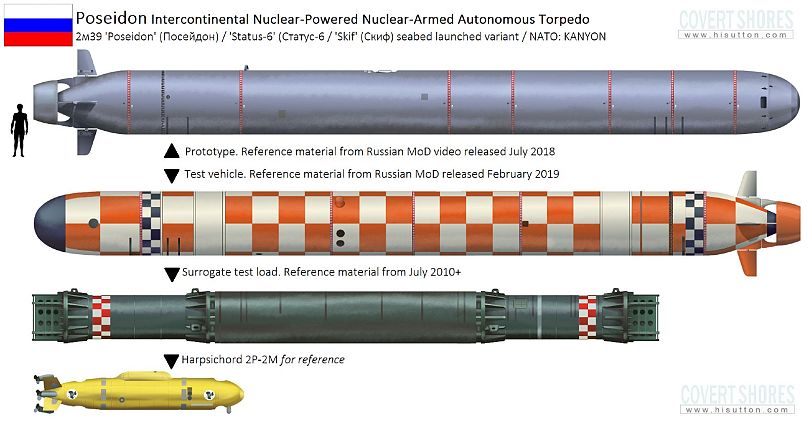 The torpedo, which Russia named Poseidon, is about 20 m long, can go 1,000 m deep and has a range of at least 10,000 km, Sidharth Kaushal, a research fellow for seapower and missile defence at the UK defence and security think tank RUSI, told Euronews Next.
Much of its actual capabilities remain shrouded in mystery, but its key strengths are thought to be its ability to operate very deep and very fast underwater, making it hard to intercept.
"It's a torpedo which has an extremely long-range, can travel at high speed and then packs that nuclear punch," said David Hambling, a technology journalist specialising in defence who has authored a book about drones.
What motivated its development was Russia's ambition to display a range of weapons that can evade the US missile defence system, said Pavel Podvig, an expert on Russian nuclear forces and senior researcher at the United Nations Institute for Disarmament Research (UNIDIR).