While crickets chirped, the bus just ran over Fauci

Mar 10
Yesterday, we witnessed the ex-director of the CDC, under oath, directly blame Dr. Fauci and the US Government for the deaths of millions of people. However, if you went to the headlines of Google News – there was nary a news story. I guess Google felt it wasn't important enough to warrant above-the-fold status. Seems like they had to make room for important news items, like the ones above.
A keyword search of Redfield on Google news did come up with the following stories.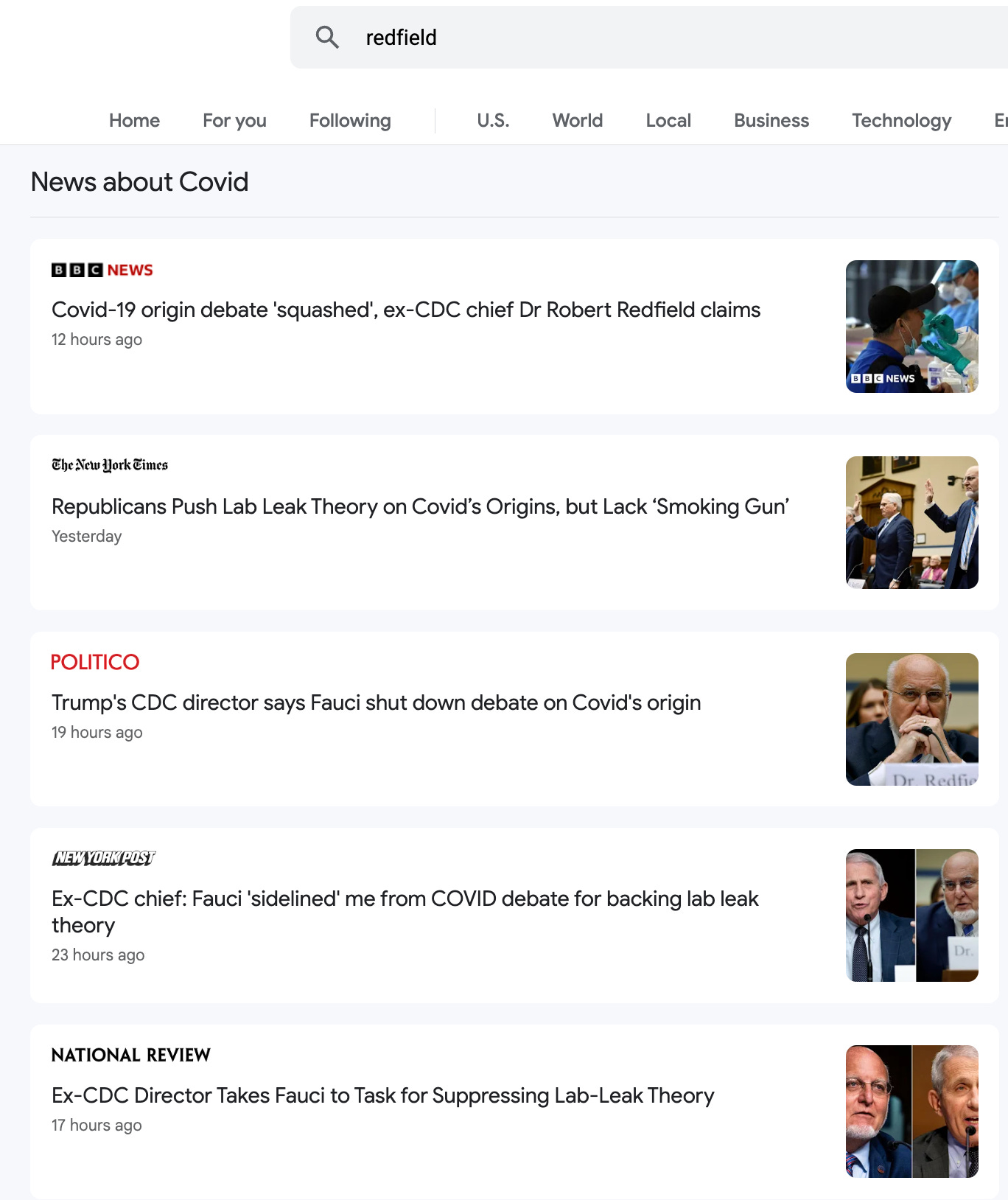 The actual testimony of Dr. Redfield was explosive. Yet, none of these headlines bely the gravity of Dr Redfield's testimony. Dr. Redfield directly linked gain-of-function research and the creation of SARS-CoV-WIV to Dr. Fauci, and to the US Gov – including the DoD. He absolutely believes and gives sworn testimony to the effect that Dr. Fauci and Jeremy Farrar, director of the Wellcome Trust and soon be the chief scientist at the World Health Organization, covered up the lab leak information. How Dr. Redfield himself was excluded from the meetings when the processes, strategy and tactics for covering up the lab leak were developed.
This winter, we had a high level Federal employee on the farm. He/she came to me anonymously to express their concerns with what has happened in the execution of this corrupt and failed public health response, and in particular to how the vaccines were developed and implemented. She/he discussed how all of the high level meetings on the clinical trials, the safety of the vaccine, public health response were all done under complete secrecy. That recorders were turned off, plus cell phones and computers were not allowed into the meetings. So, there is literally NO RECORDS of these meetings.
This person believes that finding evidence of the malfeasance, in the meeting minutes or recordings, is going to be difficult. So, when the New York Times headliner (above) cynically states that the Republicans lack a "smoking gun," I believe they know damn well why. The New York Times reporting and editorial staff is many things, but they are not stupid.
But here is the thing, I do speak to people working on these issues in Congress. I have been told that the Federal government has a large paper trail which documents the corruption over the past three years.
But what happened yesterday is explosive – let's start with the video of Congressman Jim Jordan speaking to Dr. Redfield.
Note: these clips are not available elsewhere yet, so I am sorry for the ones from Twitter – I know that some here aren't on it.
Video titled – "nine million bucks from Dr. Fauci"
The Vigilant Fox 🦊 @VigilantFox
Rep. @Jim_Jordan: There Are 9 Million Reasons Why Two Top Scientists Changed Their Stance on Lab Leak Theory "So three days after they say it came from a lab, they changed their position, and the only intervening event was a conference call with Dr. Fauci and Dr. Collins. Again,… https://t.co/Oz6PWslbnG
---
Then listen to Dr. Redfield speaking
"In Sept. 2019, three things happened in that lab. One is they deleted the sequences. Highly irregular, researchers don't like to do that. The second thing is they changed the command and control from civilian to military. Highly unusual. The third, which is very telling, is they let a contractor redo the ventilation system in that laboratory. Clearly, there was strong evidence that a significant event happened in that laboratory in September."..READ MORE
SEE ALSO:
Sars-Cov-2 was Lab Made Under Project DEFUSE
This long article will explain how Sars-Cov-2, the virus that causes COVID-19, was created as a result of intentional laboratory work. It will also show that the blueprint for Sars-Cov-2 was described in the "Project DEFUSE" proposal by Peter Daszak, which was preceded by years of relevant lab work and virus manipulation.
I intend this to be a comprehensive "popular science" style article, that has references and abundant links but is generally understandable for regular science-minded people, like journalism or computer science majors.
This article does not introduce any new ideas and is instead meant to be a summary of accumulated knowledge about "lab origin"..READ MORE
Thanks to Jon Eisen for both these links.
Martin comments: Igor Chudov correctly states his article "does not introduce any new ideas" as some very detailed information how the SARS C0V-2 virus was created was presented, at great risk to the whistleblower, way back when this "plandemic" was in its early stages. September 2020 to be specific. We covered the story here: