In light of being awarded Nobel Prize for Mass Murder Injections, it is important to ask questions about Kariko's history as an intelligence agent

6/10/2023
I found some fascinating background on one of the newly minted Nobel laureates, Katalin Kariko in Hungarian press.
I read translations of these articles and asked a couple of friends who can read the language to try to verify this information. It seems to check out, and in fact it appears that Kariko did not dispute this herself. I think that it is very important to bring this material to light since she is now being awarded the Nobel Prize for the most lethal drug ever unleashed on the public. Reproducing the material as I found it:
Katalin Karikó – alias "Zsolt Lengyel" has been working for the Hungarian counterintelligence
This article is published in Hungarian language. Due to her crucial role in the development of these mRNA lab creations, I enclose a translation of the important passages of the text (with the help of deepl.com):
https://kuruc.info/r/2/228737/
"KARIKÓ KATALIN (Szolnok, 17.01.1955, Zsuzsanna Goóz) Data on card index 6: Occupation in 1978: research assistant. Worked at the Biological Centre of the Hungarian Academy of Sciences in Szeged. Temporary residence at that time, Szeged, Budapesti körút 26. His party affiliation was KISZ. Hungarian nationality and citizenship. He was recruited on 31.10.1978 by László Salgó, r. hdgy. of the BM Cs. M., under the patriotic name of "Zsolt Lengyel". His occupation is counterintelligence. Date of registration 02.11.1978. File number illegible on file. First contact is his recruiter. There is no trace on the file of his exclusion from the network or of his placement in the file cabinet, which suggests that he was employed until 1990. Other information. (Source: ÁBTL 1.11.10.) (Emphasis added by the author.)
"The secret agent Zsolt Lengyel, alias Zsolt Lengyel, was in reality a woman, first name Katalin" (László Bálint)
Page from the book in Hungarian: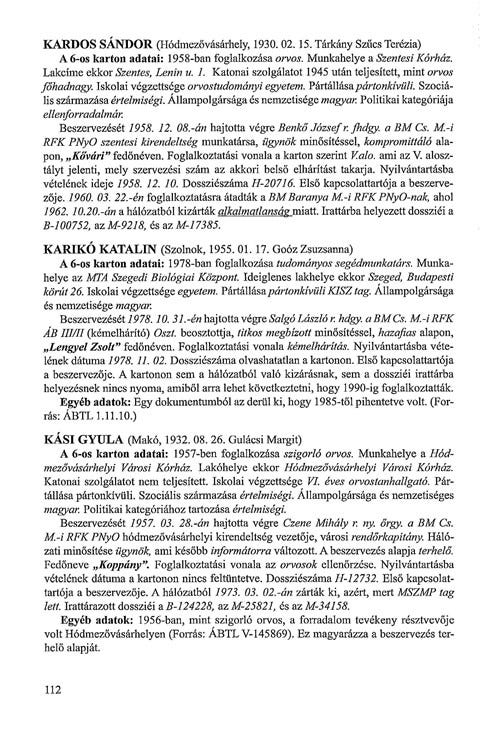 Source: https://kuruc.info/r/2/228737/
Katalin Karikó admitted that she was recruited, but "I did not give a written report, I did not harm anyone"
https://kuruc.info/r/2/228805/
Complete translation with deepl.com:
Katalin Karikó, as she put it, said the following about the news that was intended to stigmatise her personally: – "The fact is that in 1978, when I started working as a research assistant, I was approached, found and forced to make a choice. I was threatened that my professional work would be impossible, on the grounds of my father's involvement in the 1956 revolution and his 'guilty' past. I knew that my father had been sentenced to a suspended prison term in 1957, dismissed from his job, and had been out of work for four years. I knew how the system worked, I was afraid, so I signed the recruitment document," she wrote. The world-renowned scientist stressed that "in the years that followed, I did not give any written report, I did not harm anyone. I was forced to leave in order to continue my scientific activities and research." For the past 36 years, she has continued her research and activities in the interest of healing people. – No one has ever been able to break me, to take me away from my goals," she stressed, adding that this statement closed the matter.
The III/II is not the III/III
The background to the case is that an excerpt from László Bálint's 2017 book "The actors of the network register" started circulating on social media in the last few days. The author is a researcher of the local history of Szeged and Csongrád County and, last but not least, a retired counterintelligence lieutenant colonel, who has published numerous books and other publications on the subject, including in Magyar Nemzet, Magyar Hírlap and Magyar Fórum. The subtitle of the book is " The records of the state security and state security network in Szeged and Csongrád County, 1945 – 1990″ and on page 112 of the book is Katalin Karikó, a Széchenyi Prize-winning research biologist, biochemist and patent holder of the technology of synthetic mRNA-based vaccines, who was introduced to the Hungarian and world public through the highly effective Pfizer-BioNTech coronavirus vaccine...Continues here: Curious history of a Nobel laureate Katalin Kariko, alias Zsolt Lengyel (substack.com)
---
Martin comments: I generally don't post articles using such extreme language as "Mass Murder injections" as they do our community no help (often such descriptions get cherry-picked by our opponents) and if the sole purpose was "mass murder" then there are far more effective and 'stealthy' means of erasing a large percentage of the population, but I will indulge this author her opinion, based on the research diligence and evidence thus uncovered. Perhaps a more accurate phrase to use would be "population reduction tool" as it appears to adversely affect both general health and fertility. Whether or not this was intentional or a side-effect of Big-Pharma greed and sloppiness, is up to the reader to decide.
Related: