Rocket attacks killed 12 Afghan civilians during an offensive in the southern Helmand province, NATO forces admitted on Sunday.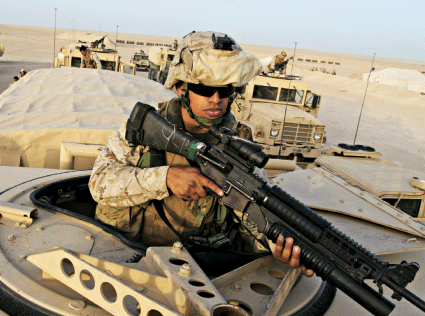 [ A photo of a hired killer helping out a bunch of  rich fu*ks with their Afghan drug trade and their oil pipelines
– in return for some quick cash and a personal sense of status within his own community ]
A major offensive launched by international and Afghan troops against a Taliban stronghold in southern Afghanistan has entered its second day with Nato officials claiming early success.
"That doesn't necessarily mean an intense gun battle, but it probably will be 30 days of clearing," Brig. Gen. Larry Nicholson said.
Afghan President Hamid Karzai issued a statement, saying 10 members of the same family died when a rocket hit a house. Before the offensive began Saturday, Karzai pleaded with Afghan and foreign military leaders "to be extra careful to prevent civilian casualties."
"Upon hearing the news, Hamid Karzai immediately ordered an investigation as he had previously ordered that the operation should be carefully done to prevent innocent civilians being killed," a statement from the president's office said.
"Unlike Fallujah"
Captain Ryan Sparks compared the intensity of the fighting to the U.S.-led offensive against insurgents in the Iraqi town of Fallujah in 2004.
[ … which was a fish-in- a-barrel bloodbath of colonial conquest just like this – but involving the use of white phosphorus ]
"In Fallujah, it was just as intense.
But there, we started from the north and worked down to the south.
In Marjah, we're coming in from different locations and working toward the centre, so we're taking fire from all angles," Sparks said.
Unlike Fallujah, where massive U.S. firepower demolished the city and left great anger against the U.S.
Marines in helicopters landed in Marjah district, the last big Taliban stronghold in Helmand province, on Saturday at the start of a campaign to impose a control on Taliban-held areas before U.S. forces start a planned 2011 drawdown.
"Mortar rounds"
U.S. forces fired mortar rounds against a Taliban position on Sunday, and the fighters fired a round back which landed in the Marines' compound but failed to explode.
The Marines responded by firing rockets at the suspected position.
A senior Afghan army general in southern Afghanistan, Sher Mohammad Zazai, told Reuters on Sunday that between 30 to 35 insurgents had been killed since the operation in Marjah and the nearby Nad Ali districts started.
Citing commanders, Taliban spokesman Qari Mohammad Yousuf said on the group's website it had launched direct attacks on NATO-led troops in several parts of Marjah and had surrounded some in one area.
The 15,000-troop NATO operation is named Mushtarak, or "together. A local Taliban commander, Qari Fazluddin, told Reuters earlier about 2,000 fighters were ready to fight.
In southern Afghanistan, five NATO troops, including three Americans, died after roadside bomb strikes, and a shooting in southern Afghanistan on Saturday, NATO said in a statement.
It was not clear whether they were killed during the offensive.
Helmand task force spokesman Lieutenant Colonel David Wakefield said a British solider was killed in an explosion while on vehicle patrol during the operation.
It was not clear whether the soldier was one of the five.