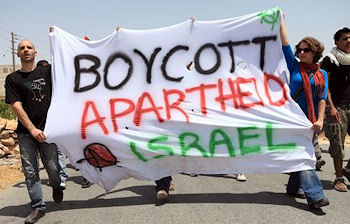 Boycott Divestment and Sanctions is a two-edged sword,
bringing relief to starving Gazans, and starvation to the occupier.
It was almost exactly two years ago that Israel launched its invasion of Gaza,
carrying out 22 days of murder and mayhem,
killing 1400 and leaving 5400 civilians crippled for life.
Since then it has continued to besiege the 1.5 million Gazans, causing hundreds more unnecessary deaths.
Its actions were deemed war crimes by the UN Goldstone Report.
Israel remains unpunished, hiding behind the skirts of its US lobbyists,
who put unremitting pressure on every single congressman, senator and the president
to prevent any condemnation of its crimes.
But its attempt to cow the Palestinians have failed.
What Israel has succeeding in doing is to confirm beyond a doubt,
for millions around the world,
its inhuman, racist agenda.
Read the rest here at Axis of Logic.com
Boycotting Israeli Products At The Supermarket