For the first time in human history almost all of humanity is politically activated, politically conscious and politically interactive…
The resulting global political activism is generating a surge in the quest for personal dignity, cultural respect and economic opportunity
in a world painfully scarred by memories of centuries-long alien colonial or imperial domination …
The worldwide yearning for human dignity is the central challenge inherent in the phenomenon of global political awakening…
– Zbigniew Brzezinski
Former U.S. National Security Advisor
Co-Founder of the Trilateral Commission
Member, Board of Trustees, Center for Strategic and International Studies
An uprising in Tunisia led to the overthrow of the country's 23-year long dictatorship of President Ben Ali.
A new 'transitional' government was formed, but the protests continued demanding a totally new government without the relics of the previous tyranny.
Protests in Algeria have continued for weeks, as rage mounts against rising food prices, corruption and state oppression.
Protests in Jordan forced the King to call on the military to surround cities with tanks and set up checkpoints.
Tens of thousands of protesters marched on Cairo demanding an end to the 30-year dictatorship of Hosni Mubarak.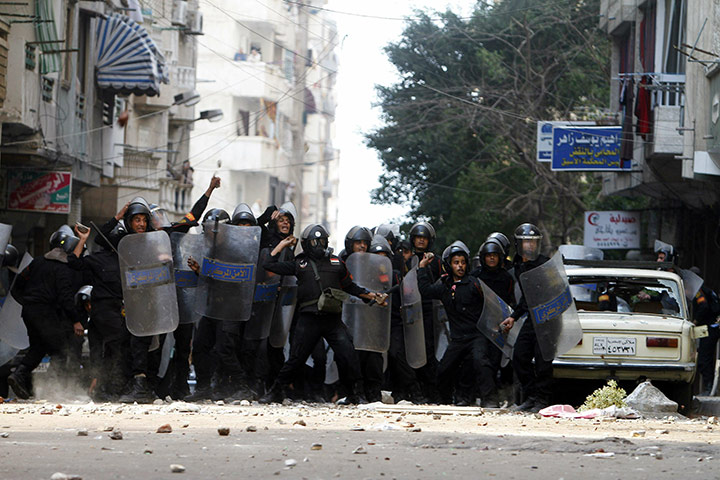 Thousands of activists, opposition leaders and students rallied in the capitol of Yemen against the corrupt dictatorship of President Saleh, in power since 1978. Saleh has been, with U.S. military assistance, attempting to crush a rebel movement in the north and a massive secessionist movement growing in the south, called the "Southern Movement."
Protests in Bolivia against rising food prices forced the populist government of Evo Morales to backtrack on plans to cut subsidies.
Chile erupted in protests as demonstrators railed against rising fuel prices.
Anti-government demonstrations broke out in Albania,
resulting in the deaths of several protesters.
It seems as if the world is entering the beginnings of a new revolutionary era: the era of the 'Global Political Awakening.'
While this 'awakening' is materializing in different regions, different nations and under different circumstances,
it is being largely influenced by global conditions.
The global domination by the major Western powers, principally the United States, over the past 65 years,
and more broadly, centuries, is reaching a turning point.
The people of the world are restless, resentful, and enraged.
Change, it seems, is in the air.
As the above quotes from Brzezinski indicate,
this development on the world scene is the most radical and potentially dangerous threat to global power structures and empire.
It is not a threat simply to the nations in which the protests arise or seek change,
but perhaps to a greater degree,
it is a threat to the imperial Western powers,
international institutions,
multinational corporations
and banks that prop up, arm, support and profit from these oppressive regimes around the world.