Good to see Dershowitz is finally starting to get it. After Trumpism began, the emeritus one was making noises reminiscent of a little fairy at the bottom of the garden. Lost somewhere between Reversal of Fortune and Paper Chase.
His espousings that SCOTUS would uphold the junk interpretations of Trump's EOs, banning importation of our brothers and sisters from The Middle East, that Comey was doing the best he could, and perhaps Yates was maligned, brought me to a state of nausea I had not experienced since I heard Ma Clinton was sane and had no baggage.
Good to hear he has backed away from intellectualised progressive assertions.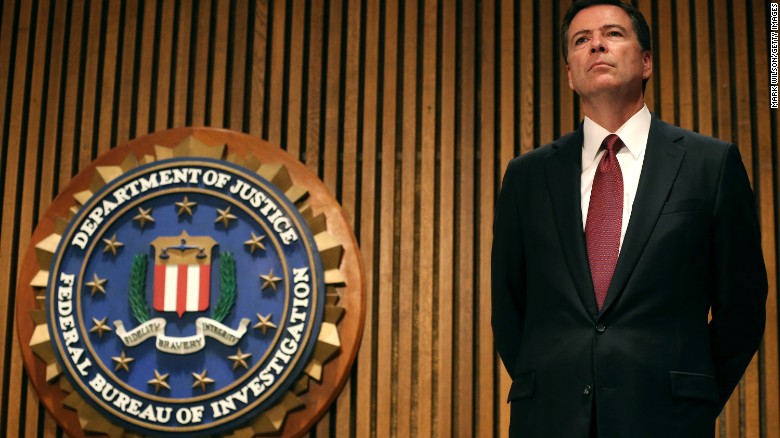 I wrote that Comey had been involved in every Clinton affair that would have shut down mere mortals. He was lead investigator, prosecutor, or special advisor, on everything concerning them from the Iran-Contra deliveries through Little Rock and The Whitewater Affair, to The Email Affair.
The Clintons could do no wrong. And what would all that signal, to the best FBI Director that money could buy, since the one and only world famous cross-dresser (Mary) J.Edgar himself. The man who had files on everyone relevant and used them as required. But The Mafia had his.
The same character who said The Mafia did not exist until good old Joe Valachi blew the lid of the whole shop.
On a smaller scale, the pathetic NSW Premier in Australia, Robin Askin, had denied the existence of illegal casinos in Sydney. The culture that followed through to the equally regrettable and protected (Age Tapes Affair) Neville Wran. Biological daddy to the  Australian politically famous… (would you like to take 50-50, or phone a friend?). He admitted it, but the herds are still choking on it. One of the worst kept secrets in Australia.
Hoover was the same fellow who hid the story that JBJ had raped his grandmother at age 14. She was 68. The same fellow who LBJ, through gritted teeth, made a public anouncement that he had appointed Hoover as FBI Director for life. As Hoover stood grinning in the background.
The same way LBJ stood grinning when his well hidden hand was behind countless murders including JFK, RFK, and MLK. GHWB was always the mechanic. And The CIA performed the duties. What's a few innocent people in gaol. What about those who died in Vietnam. What about those who didn't but wished they had.
Ruth Ament Huffman married Joseph Baines. They had a daughter Rebekah Baines who married Samuel Ealy Johnson Jnr. They had a son named Lyndon Baines Johnson. From the age of five, he began to show signs of a serious mental disorder.
His file is code named 'NSHJ'. Alfred Kinsey had interviewed him. He admitted to having raped his grandmother when he was fourteen. A copy is kept in 'Deep Files' at The Kinsey Institute. It's classified under 'National Security'. No FOI. Not even a redaction. Intel hold the original. LBJ was completely certifiable. And America complains about other heads of government or state.
Hoover was in office as Director of The BOI 1924-1935, when it became The FBI. From there he was Director from 1935-1972. He died in office. From 1924-1972 he had been continually in office for 48 years. He held files on everyone of interest, and manipulated 8 presidents.
On his death, his office was sealed and all his 'personal' files were removed by force by another intel body. LBJ also arrived on that day to be shown empty cabinets. He died the following year.
LBJ wanted WWIII. It seems a common fixation amongst the disturbed from The West. He planned that through Operation Cyanide. Again: this information is confused and rewritten on the net. It is also classified by Israeli intel. Living victims have difficulty accepting the realities of their government. They believe morality and loyalty to be a two way exercise of trust.
Israel was to sink The USS Liberty as a False Flag to blame Egypt. From there The US Airforce was to bomb Egypt. From there Russia would strike The USN. And bingo … WWIII. It was solely LBJ's plan. And, as Hitler, LBJ listened to no one and had no strategic rationality whatsoever. He had driven The Vietnam War from a non event of typical American ideological meddling to the total insanity it became under Nixon.
The Liberty was to have been sunk with all hands. No witnesses. USN vessels in the vicinity were stood down, not to respond. USAF bombers were in the air with nuclear devices as The Liberty was being strafed by Israel on 8/6/1967, during The Six Day War that LBJ had initiated.
The silly fellow thought that Khruschev and Gromyki would jump to that one. He learnt nothing from The 1956 Suez Crisis (Tripartite Aggression :Israel, UK, France. Kadesh Operation, Sinai War). Neither from The Berlin Affair from 1948, The Korean War, The Vietnam War, The Cuban Missile Crisis, nor anything from The Cold War. As Clinton, GWB, and Obama learnt nothing. As Trump is struggling to learn from Syria, Afghanistan, and North Korea. Notice how Iran, Iraq, and Ukraine have gone MSM quiet.
As the MSM and intel of the day maintained a silence concerning The Apollo 11 Capsule being dropped in the sea then recovered to the deck of The USS Hornet, LBJ in a 1965 press conference was asked why he was escalating The Vietnam War. He stood, unzipped his pants and exposed his penis shouting 'That's why'. The media people left. The usual understanding as with others; that it was an event that did not occur. The Hornet was also involved in the fake Bin Laden Capture.
Comey was on a ten year contract. There was no doubt he would be removed. He was untenable and his true history is horrendous. He was never fit to hold that office. He empowered himself further, took control of The DOJ under Lynch, was infilitrating CIA and NSA, beginning to politically manipulate (The Russian Hack Affair), and blackmail those on whom he held files.
He effectively closed The Clinton File, but was still running the concocted Russian Collusion Lie from June 2016.
Some weeks ago, he was asked to resign, but refused. At the airport meeting with Lynch, Bill Clinton discussed her aiding in the looming Clinton Foundation and Hillary Clinton Affairs, but he also threatened her. The Clinton Foundation has now all but closed. However there is a considerable wake yet to be realised. Threatening everyone is a standard practice for Slick Willy. He has had a lifelong confusion concerning reality.
Comey controlled Lynch and The DOJ. The immunities and 'lack of evidence' are Comey's doing. Comey was not the innocent party acting in accord with what was delivered by Lynch. Who should have yelled earlier and louder.
In 2004, the internal CIA wars became an issue. The DNI was positioned above The Director of The CIA. It is a Cabinet position and leads The NSC. It was created by The 2004 Intelligence Reform and Terrorism Act. Further strengthened by GWB EOs 12333 and 13470 and Obama's Presidential Policy Directive 19.
As I previously wrote, Comey has a deep culture in FBI and DOJ. It's now starting to show. Trump needs to shovel it out deep from the top until a solid foundation is found on which to rebuild.
The current remaining malignancy will play the game of manufacturing political damage, and play it through MSM for herd tutored reaction. There are many political actors who would also play out the deceptions. They all forget they are supposed to be representing a nation of people, not themselves and their illusions.
NSC meetings have 17 intel people pushing their individual agendas. And each one of those has a range of divisions and subsidiaries. Many of which do not speak to each other, are at war with each other, and infiltrate each other.
Legitimate coordinated responses are not possible. Fully accurate intel is not possible. Acting correctly from such an alleged consensus is not possible.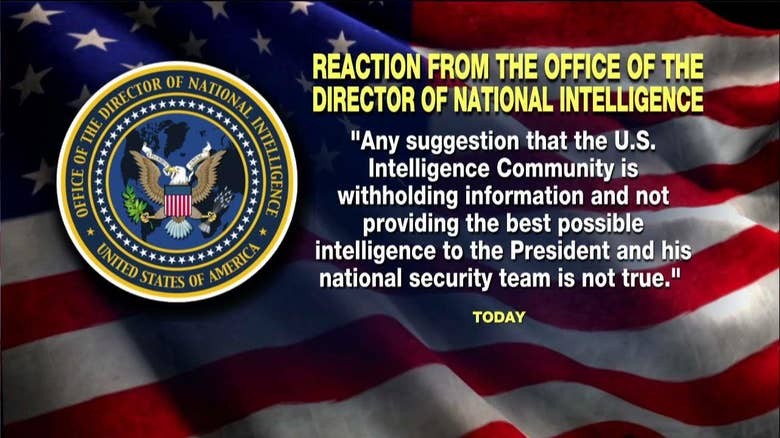 Text By G Squared, editing and added imagery by Martin H.