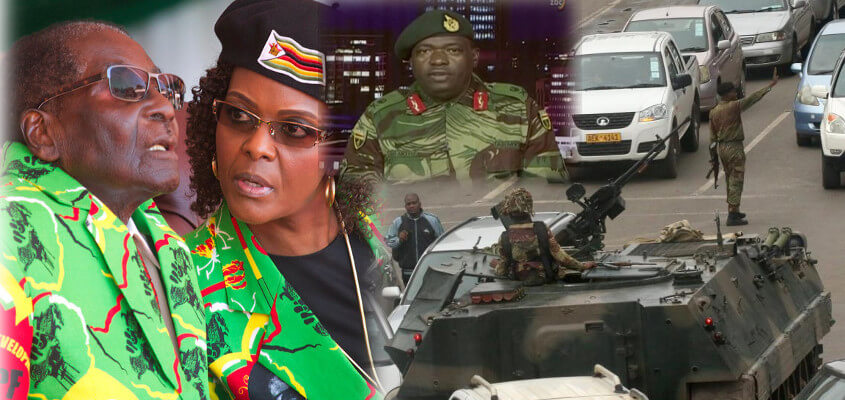 President Robert Mugabe is under intense pressure to resign. But nothing has been heard from the 93-year-old since he appeared at a university graduation on Friday.
"We want to tell President Mugabe, it is time to rest," Chipo tells us as she continues celebrating with her friends near Freedom Square. "This is a new Zimbabwe, and freedom has finally come," she adds.
Such a public display of defiance against the president would have been unthinkable before the military intervention.
Crowds erupt into celebration at the sight of military vehicles and soldiers.
"They have given us our second independence," shouts a man from a crowd surging towards an armoured personnel carrier.
The crowds sing songs praising the military and its chief, Gen Constantino Chiwenga. Some carry placards featuring the general's portrait and that of the former Vice-President Emmerson Mnangagwa, who was fired last week after a feud with First Lady Grace Mugabe.
Negotiations are going on behind the scenes to persuade President Mugabe to step down.
It is understood that he has insisted that he cannot do so and legitimise a coup.
The military maintains this is not a coup and there is international pressure to use constitutional means to resolve the political crisis. Negotiators are poring through Zimbabwe's laws to find a legal way out.
READ MORE:
https://www.bbc.com/news/world-africa-42035981
From Black Agenda Report:
In a Facebook exchange with BAR contributor Ann Garrison yesterday David Van Wyk, a South African who lived more than a decade in Zimbabwe described Mugabe as having swing from left to right and back and forth over almost 40 years.
"Anything to remain in power. That does not mean that he was all bad. In the early days his interventions in health and education were very progressive. His interventions on the land question came far too late. His indiginisation program in mining also came too late…
"His first fifteen years he spent dancing to the tune of the West. That effectively deindustrialised the country and led to massive unemployment. The next fifteen years became very confused and possibly self serving, taking decisions that he thought would keep him in power. He did not allow for new leadership to emerge within the ruling party or within ZANUPF. Munangagwa (who is scheduled to formally assume Mugabe's office any day now) is already 73 years old and one of the few remaining original ZANU leaders, but one of the least inspiring also. (Robert Mugabe's wife) Grace also was bad news…"
"Zimbabwe could be far worse off than it is. In the whole continent only the governments of Eritrea and Zimbabwe have refused AFRICOM, and of course Somalia and Libya have no central governments. Mugabe is to be credited with keeping AFRICOM, its notorious solder to soldier relations and ubiquitous training, material and logistics support out of Zimbabwe. The Guardian depicts the Zimbabwean military as having broad and deep ties, an "all weather friendship" with China, which is making enormous investments throughout Africa. To the extent that this is true, we can expect the decades old campaign to isolate and vilify Zimbabwe to continue, and aid to the parties of Western puppets to flow.
But as Ajamu Baraka said, Zimbabwe is not Cuba. It's not even Venezuela, where popular organizations and the army itself stepped in to restore Hugo Chavez against an attempted right wing coup. Despite some progress, ZANU-PF seems to have failed to use its four decades of state power to organize the handoff to the masses of its people the power to run their own economy, their own country. The fruits of ZANU-PF's successes and failures will be reaped by its people."
READ FULL ARTICLE (interesting and quite detailed):
https://blackagendareport.com/zimbabwes-robert-mugabe-sidelined-military-coup
AND SOME INTERESTING (AND SLIGHTLY TONGUE IN CHEEK) SPECULATION FROM "THE SOUTH AFRICAN":
Zimbabwe: Six possible outcomes of the coup that is not a coup:
So, what could realistically happen?
1. Mugabe resigns
After Maj Gen Sibusiso Moyo announced that the military had taken over in what is definitely not a coup (their words), he said Robert Mugabe will be addressing the nation – and will step aside. Obviously, that hasn't happened and the rumour mill has been in overdrive since then. One moment he's ready to hand it all over imminently, the next, he is refusing.
2. Mugabe goes nowhere
Mugabe himself as reportedly said he remains the president and the military has continued to refer to him as such. The military insists that the aim of military muscle was to "root out criminals around him" so chances are he could stay on. Since one of those "criminals" might be his wife, Gucci Grace, the situation is, erm, delicate. Elections are due to take place next year, so who knows?
3. Elections
South Africa's Democratic Alliance called for this as a solution. With Morgan Tsvangirai returning to the country after visiting South Africa for cancer treatment, this is being touted as an option by some experts. Indeed, at a press conference on Thursday, Tsvangirai urged "each and every Zimbabwean" to turn out and vote during elections. We assumed he was talking about next year, but…. who knows. A government of national unity will be established in the interim.
4. Emmerson Mnangagwa takes over
Zanu-PF does not want to lose power and many have suggested what is currently unfolding is only an internal party power struggle. Mnangagwa isn't exactly going to bring a new dawn.
5. Counter coup!
The Presidential Guard, although part of the military, remains very loyal to Mugabe. This is probably the least likely outcome of the lot, but don't hey, we live in crazy times.
6. Exile
This could happen with all of the above (except number two) scenarios. If Zanu-PF cannot get its house in order, the Mugabes might be forced into exile. The Economic Freedom Fighters have already called for political asylum to be granted to the family, but it could make this a bit awks for Grace after the whole alleged assault and diplomatic immunity situation.
Bonus scenario: Donald Trump and Kim-jong un begin nuclear war
And everyone forgets about Zimbabwe again.
Extra bonus: We find out "Mugabe" is actually a body double
Look, there are some wild conspiracies out there and this some of them – Mugabe actually died years ago and the guy in charge is just a lookalike.
[h/t bbc]
https://www.thesouthafrican.com/zimbabwe-coup-what-will-happen/