Interesting analysis well worth reading!
By Benjamin Fulford Weekly Reports
U.S. President Donald Trump's declaration of trade war with just about everybody is really just a case of Trump negotiating a Chapter 11-style bankruptcy for the United States. A kinder way of putting it would be to say that the U.S. is revolting against an international system that has looted its people on behalf of globalist oligarchs. Yet another way of putting it is to say the world is negotiating a replacement for the petro-dollar system. …
Tyler Durden, Zerohedge
Following our discussion of Europe's angry response to Trump's unilateral Iran sanctions, in which European Union budget commissioner, Guenther Oettinger made it clear that Europe will not be viewed as a vassal state of the US, stating that "Trump despises weaklings. If we back down step by step, if we acquiesce, if we become a kind of junior partner of the US then we are lost", moments ago Reuters reported that the European Commission is set to launch tomorrow the process of activating a law that bans European companies from complying with U.S. sanctions against Iran and does not recognise any court rulings that enforce American penalties.
"As the European Commission we have the duty to protect European companies. We now need to act and this is why we are launching the process of to activate the 'blocking statute' from 1996. We will do that tomorrow morning at 1030," European Commission President Jean-Claude Juncker said.
Speaking at news conference after a meeting of EU leaders in Bulgaria, Juncker added that he "also decided to allow the European Investment Bank to facilitate European companies' investment in Iran. The Commission itself will maintain its cooperation will Iran."
Europe's hardline position will infuriate Trump, as Brussels effectively nullifying US sanctions will prompt a violent outburst from Trump, who needs Europe on his side for US sanctions of Iran to have any chance of succeeding.
Perhaps sensing what is coming, French President Emmanuel Macron took a slightly softer tone, and said that the French defense of Iran nuclear accord is based on concerns about security and stability, not commerce, and that the deal should be supplemented and it is necessary to continue negotiations, including on missile program.
The French president said that "the European Union decided to preserve the nuclear deal and defend EU companies" adding that "our main interest in Iran is not in trade, but in ensuring stability in the region, at the same time, we will not become an ally of Iran against the US."…
Read More at Source link above
BRUSSELS (Reuters) – The European Commission is proposing that EU governments make direct money transfers to Iran's central bank to avoid U.S. penalties, an EU official said, in what would be the most forthright challenge to Washington's newly reimposed sanctions.
The step, which would seek to bypass the U.S. financial system, would allow European companies to repay Iran for oil exports and repatriate Iranian funds in Europe, a senior EU official said, although the details were still to be worked out.
The European Union, once Iran's biggest oil importer, is determined to save the nuclear accord, that U.S. President Donald Trump abandoned on May 8, by keeping money flowing to Tehran as long as the Islamic Republic complies with the 2015 deal to prevent it from developing an atomic weapon.
"Commission President Jean-Claude Juncker has proposed this to member states. We now need to work out how we can facilitate oil payments and repatriate Iranian funds in the European Union to Iran's central bank," said the EU official, who is directly involved in the discussions.
The U.S. Treasury announced on Tuesday more sanctions on officials of the Iranian central bank, including Governor Valiollah Seif,. But the EU official said the bloc believes that does not sanction the central bank itself.
Source: REUTERS
"The elephant in the living room of this EU/American domestic spat is China and its move to replace the Atlantic alliance with a Eurasian alliance that leaves the Anglo-Saxon powers on the periphery of world power. The way things are going now, the Chinese are winning because the EU/U.S. spat has given a big boost to Chinese yuan-denominated oil futures and thus strengthening the petro-yuan as a would-be replacement for the petro-dollar."
https://www.zerohedge.com/news/2018-05-17/china-oil-futures-thundering-action-after-trump-exits-iran-deal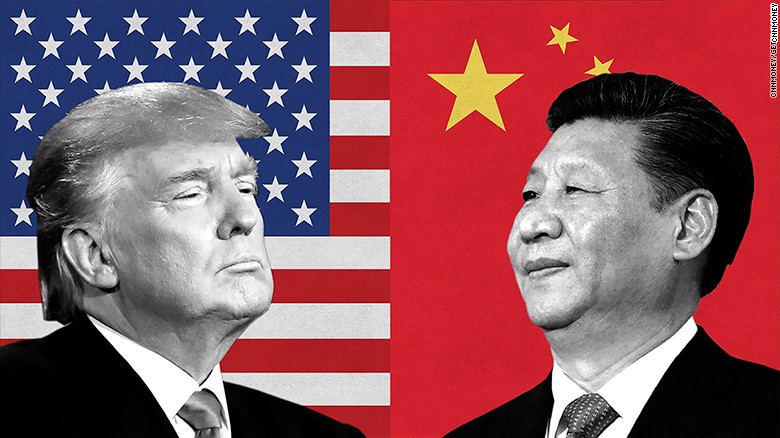 ."..However, Chinese secret society sources say they are actually playing a much bigger game and that they are pushing for…
a world government. This Chinese world view is shaped by their history. When China was divided into warring states, the inevitable result was population decline, poverty, and misery. They believe the world now needs to unify, like China once did, in order to end strife and poverty. The problem with this vision, from a Western perspective, of course, is that if the price of world peace is for everybody to become a Chinese slave, then no thanks.
However, unless the West can remove the Zionists with their apocalyptic visions from control of Western future planning, then the Chinese alternative becomes increasingly inevitable as time unfolds…."