Saudi Arabia's energy minister said that its oil supplies had resumed and that its oil market would be "fully back online" by the end of September following attacks which Washington blames on Iran while Riyadh is still probing.
RT
Tue, 17 Sep 2019 18:00 UTC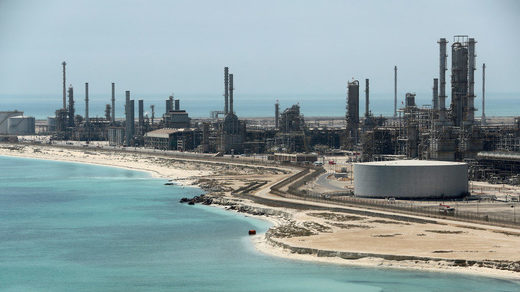 Minister Prince Abdulaziz bin Salman told the media that oil production in October would reach 9.89 million barrels per day and 12 million bpd by the end of November.
"We are asking the world to help us to help secure oil," he said, adding that Riyadh expect no decline in oil exports and "no oil cargoes were canceled."
He also said Riyadh did not yet know who was responsible for the attacks, though Washington has pointed the finger at Tehran.
Iran has denied involvement in the attacks and Houthi rebels in Yemen have taken responsibility, warning that more could be forthcoming.
The attacks on refineries at Abqaiq and Khurais slashed Riyadh's output by 50 percent and knocked out more than five percent of global daily production. Saudi Aramco CEO Amin Nasser says, however, that it is now producing "two million barrels" from Abqaiq.
Nasser said Saudi Aramco is still in the process of estimating the repair work that needs to be carried out on the refineries. He also said the kingdom's petroleum reserves were effective in coping with the crisis.
Aramco is the company "that you can trust the most in the world," he said.
Nasser also said the company is committed to a planned IPO listing and "will be ready" for it any time in the coming 12 months "as per market opportunity."
Iran's foreign minister Javad Zarif said on Tuesday that the US was "in denial" over its suggestion of Iranian involvement in the attacks on Saudi Arabia's oil facilities.
Washington is in denial "if it thinks that Yemeni victims of 4.5 yrs of the worst war crimes wouldn't do all to strike back," he said in a tweet, adding that "blaming Iran" would not change that.
Comment: RT also reports:
Both drones and cruise missiles were used to attack the refinery at Abqaiq and the Khurais oil field, flying over southern Iraq and Kuwait to avoid Saudi air defenses, according to CNN's source. This information was also quoted by AFP, but it was unclear whether their source was the same official or a different one.

CBS News quoted a "senior US official" who said the Saudi air defenses did not stop the drones and missiles because they were pointed south, to detect and prevent attacks from Yemen.

While Washington immediately blamed Iran for the attack, the Saudi authorities have been more circumspect, with Energy Minister Prince Abdulaziz bin Salman saying they "don't know" who was behind it just yet.

France was likewise skeptical, with Foreign Minister Jean-Yves Le Drian telling reporters he had seen no evidence indicating the origin of the attack just yet.

"Up to now, France does not have any proof that would allow us to say where the drones came from," Le Drian, who is on a working visit to Egypt, told reporters on Tuesday.

Speaking at a news conference with his Egyptian colleague, Le Drian urged a "strategy of de-escalation" and seconded Saudi calls to involve the UN in the investigation.

https://www.sott.net/article/420574-Oil-supply-is-back-but-we-dont-know-yet-who-is-responsible-Saudi-energy-minister
Martin comments:
Right from the start I thought this "Iran did it" narrative smelled rotten. Far too convenient under the current political circumstances. With the US having eyes-in-the-sky watching everywhere constantly, that can see a flea from ten miles up, surely they can come forth with better evidence than a grainy image of the refinery from above with a statement "the attack came from the north, so Iran did it".
What? Drones can't change direction? Are drones suddenly invisible? Didn't see 'em coming? What about the rebel guy claiming responsibility? Does anyone share my observation that he looked somewhat robotic? Bad acting? Reading a teleprompter? A nifty bit of CG?
And on the oil production front: Gas prices soared here in NZ, yet Trump said right away there's no oil shortage. Now the Saudis are backing that up. Crooked. The whole damn thing.
One has to ask, who really did this and what was their real objective?
Guardian says:
CNN says:
(both 14 hours ago at time of posting this article!) Go figure.