Two weeks out from Brexit here comes the Muslim-with-a-fake-suicide-vest-and-knife routine. What's a known terrorist doing wandering the streets of London with electronic monitoring anyhow? Didn't stop him did it?
by Martin Harris 1/12/19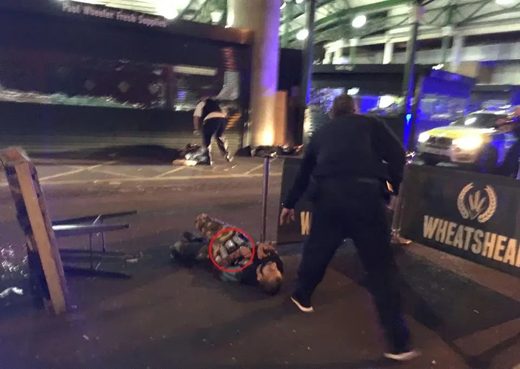 The man shot by police on London Bridge has died at the scene, Britain's top counter-terrorism officer told reporters. The suspect was strapped with a fake bomb and the incident is being treated as a terrorist attack. Police shot the suspect dead, after he stabbed multiple people near London Bridge on Friday, Metropolitan Police Assistant Commissioner Neil Basu told reporters that afternoon. The man died at the scene. "This is a terrorist incident," Basu told reporters, adding that investigators believe the man was wearing a hoax explosive vest. In response, Basu said that the Metropolitan Police would be stepping up patrols in London, and that the area will remain cordoned off for some time, to ensure "no further danger to the public."After speaking to reporters, Basu traveled to Downing Street to brief Prime Minister Boris Johnson on the situation. Johnson condemned the attack as an "appalling incident."


RT.com
Let's backtrack 3 weeks.
3 weeks ago Joe Quinn posted this on Facebook:
"I'll make a little prediction now, that if there is another "Muslim terror attack" in the UK before the Dec. 12th general election, it will be pretty clear evidence that the British establishment, as represented (as always) by the Conservative party, uses "Muslim terrorism" to maintain their position in power.

Why? Because "Muslim terrorism" was THE reason that a majority of British people voted for Brexit. If that reason were to be brought back, front and center, it would likely swing a general election vote in favor of the Conservatives, with the people thinking that by voting for the Conservatives they are voting for "Brexit" (and an end to immigration) when they are merely voting for 5 more years of Conservative party rule (and the continued destruction of the NHS)."
And the same commentator yesterday: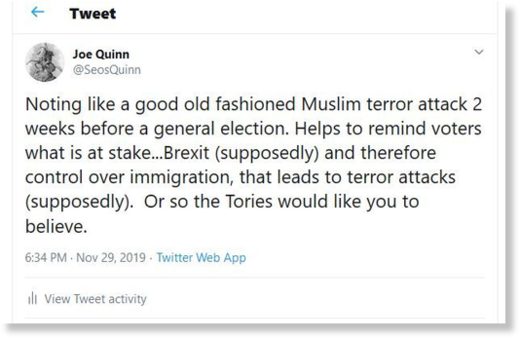 You think this guy's onto something? I sure thought the timing was suspicious and it seems, looking around the Interweb, that many others also smelled a political rat.
Now, I'm all for Brexit personally, being an Inter-Nationalist rather than a Globalist. But the whole conflicting "Good Muslim/Bad Muslim" game does get rather tedious. The connection between Socialism and the Muslim faith is nothing new. When Socialism reins, Muslims are our meek and gentle freinds (Christchurch terror attack a prime example)) and only a few years prior, Muslims were the Big Bad Boogeyman of countless terror events.
Were I a devotee of the Muslim Faith, I think I'd be getting awfully sick and tired of my ethnicity and beliefs being used as a pawn in geopolitical game.