How long before this "voluntary" classification system becomes as compulsory as the nutritional guides on your food items?
SOTT presents a great range of articles, clearly categorized, and of course open to inquiry and debate, as their comments section indicates. Much like Uncensored in fact. But unlike many mainstream news sources, who do not permit comment or questioning on such vital topics as Climate Change and vaccination. Bear in mind that Alternative/Independent news outlets are often the ones that expose the fake news, as we can evidence! Sadly, many people do not think for themselves and are likely to be deceived by schemes like NewsGuard. Don't be one of those people! MH
Warning: Do NOT Read This! NewsGuard 'News Rating Agency' Gives SOTT.net Red 'Fake News' Label
Niall Bradley
Sott.net
Fri, 31 Jan 2020 13:56 UTC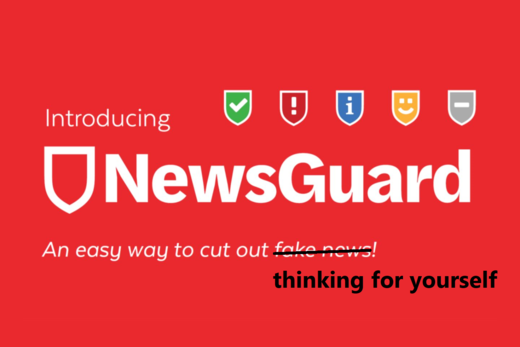 Well, they finally got around to 'officially' marking Sott.net 'fake news'.
In October 2018, a representative of 'NewsGuard Technologies', a self-described "news rating agency," reached out and invited us to answer "some questions regarding Sott.net's background and editorial practices." Based on the false assumptions that were clear in their questions, and their ludicrous examples of Sott.net content they deemed "far-right," we immediately had a good idea of who they were and what their shtick was. (Ostensibly, "combating online disinformation." Really, cracking down on dissent.) We nevertheless humored NewsGuard with detailed responses, which apparently stumped them because it was another 14 months before they got back to us.
Much backgrounddigging has been done on this outfit in the meantime, but for now I'll summarize NewsGuard's pitch then share with readers some of our most recent correspondence with them. NewsGuard's 'technology' is a free opt-in browser extension that flags search engine results and social media posts that include links to content from news and information sites with a color-coded 'nutrition label'. They base it on nine 'journalistic criteria', five for credibility and four for transparency.
If you download the NewsGuard app and see a red shield appear next to a post or search result, this means it comes from a site NewsGuard has deemed 'fake news'; if a green shield appears, users may proceed to click on it, safe in the knowledge that it's from a 'trustworthy' news site. While they don't actually say 'Sott.net is fake news', that is clearly implied given the climate in which this is taking place. The red shield contains an exclamation mark and next to it appears a warning to "proceed with caution," and a link to "see the full Nutrition Label" (here's Sott.net's).
While this is a free opt-in browser extension for now, NewsGuard has big plans to roll it out nationwide in the US – and its powerful backers are also intensively lobbying the EU to do likewise – as a default feature in libraries and educational institutions, and is in the process of securing big contracts with Big Tech to have it baked into devices and operating systems like Microsoft Windows, and/or 'at source', directly with Internet Service Providers. NewsGuard isn't the only such initiative taking off; a plethora of similar 'news ranking initiatives' are competing to "turn media credibility into a booming business." …READ MORE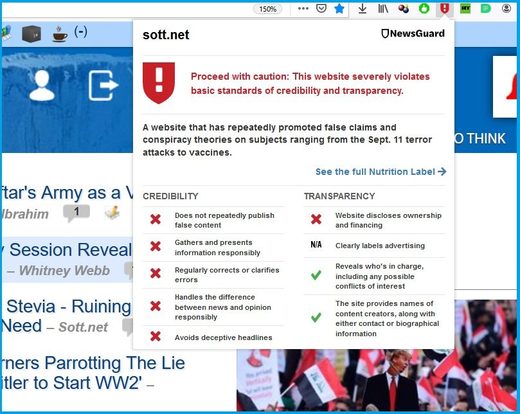 "THINK FOR YOURSELF"…before it's too late!