The New World Order agenda isn't even being hidden anymore. Joe Biden is the latest and loudest voice to promote COVID 19 as rather handy and convenient opportunity to embrace a Chinese-style police state with open arms.
by Martin Harris
"And I truly think, if we do this right, we have an incredible opportunity to not just dig out of this crisis, but to fundamentally transform the country," Joe Biden.
The comments were somewhat of a departure for Biden, who has positioned his campaign as a way to return to normal after the Trump years. He was not the candidate of "big structural change," a message more likely to be found coming from his former primary rival, Sen. Bernie Sanders, who announced Wednesday he was suspending his campaign. But the pandemic and the resulting economic collapse have become an opportunity for the Biden campaign to reset its messaging.
So they "pulled" Biden's script and replaced it with Sanders' script. Neat trick. And Sanders' script, of course, is resoundingly Socialist and in keeping with the NWO and UN 2030 Agenda goals.
The goal is to change the U.S. into China so a New World Order and one-world government with top-down authoritarian controls to the point of slavery can be imposed on humanity by a tiny few elitists. We have reached the point where this is the goal, and the politicians are all in on it. Some are opening their eyes.

https://nworeport.me/2020/05/08/joe-biden-lets-use-the-coronavirus-to-fundamentally-transform-america/
Once again I'm reminded of GHW Bushes infamous "Fifth Objective" speech: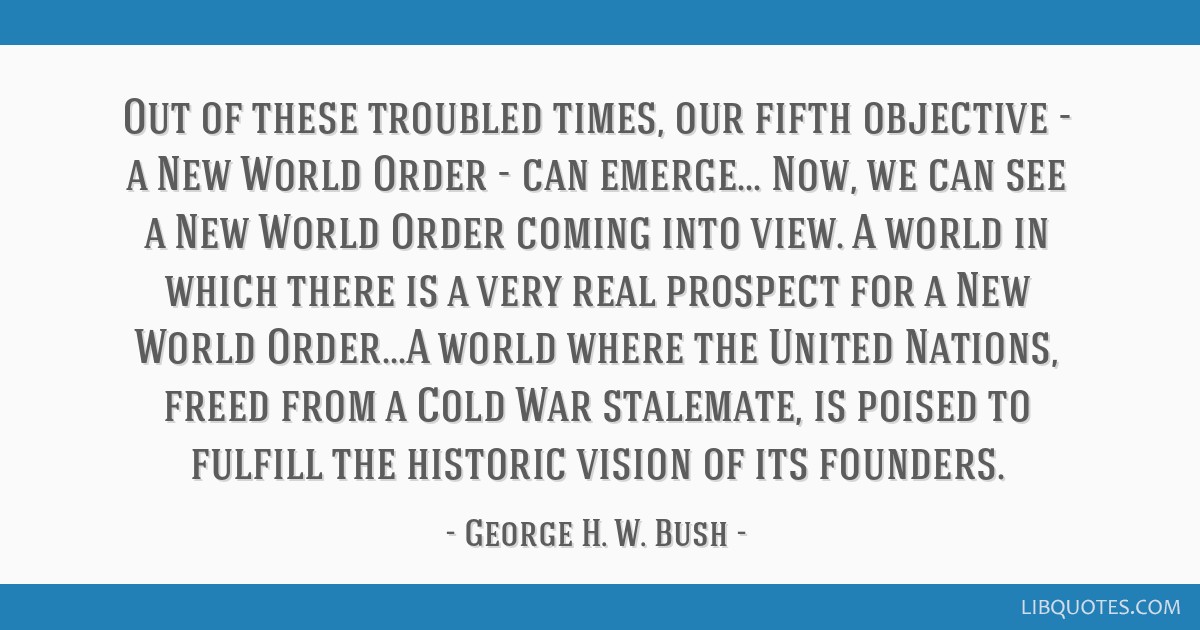 Parallels have also been drawn with Barack Obama's 2008 call to "fundamentally transform" America.
Joe Biden calls coronavirus an "incredible opportunity…to fundamentally transform the country" Make no mistake: Joe Biden is the bannerman for the radical socialist wing of the Democrat Party. Biden and Bernie are two sides of the same far left coin.pic.twitter.com/RKiLqdy3pm
— Steve Guest (@SteveGuest) May 4, 2020
Similar calls for "Social transformation" have been raised on other nations, notably the UK, where, in a viral video featuring film producer, author and poet Tomos Roberts AKA Tom Foolery (Managing director of Odds On Productions) a father in a hypothetical post-COVID future reading a bedtime story to his kids, has rallied the call.
A cute but rather naive and romantisised view of how the Lock Step Scenario (AKA COVID 19) has affected us and what is yet to come. Try telling the many thousands who have lost their businesses, homes, jobs and those have had to beg and borrow and thus be in debt for the rest of their lives that COVID19 is a warm fuzzy "happy ever after" story.
This New World Order involves greater poverty for the masses, greater concentration of wealth for the elite, expanded surveillance and tracking of citizens, reduced freedom of speech, greater restriction of information, regular lockdowns, permanent social distancing measures just for starters.
We all want to make the world a better place, and Socialist transformation/Revolution appeals to youth with it's deceptively utopian and idealist vision, but be sure that what you wish for aligns with what reality will bring.
As for Mr. Biden, he has "touched us all". And with more than just words…