KGB defector Yuri Bezmenov's warning to America (1984)
The Four Steps for American Subversion
Bezmenov described this process as "a great brainwashing" which has four basic stages.
The first stage is called "demoralization" which takes from 15 to 20 years to achieve.
According to the former KGB agent, that is the minimum number of years it takes to re-educate one generation of students that is normally exposed to the ideology of its country.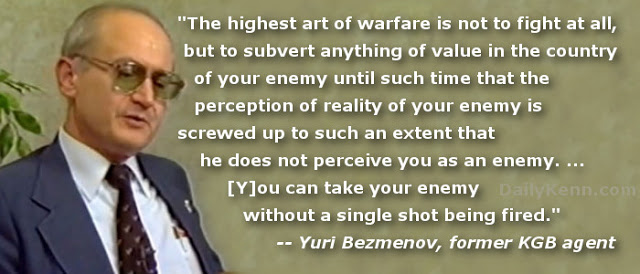 Yuri Alexandrovich Bezmenov (Russian: Ю́рий Алекса́ндрович Безме́нов; 1939 – 1993),[2] known by the alias Tomas David Schuman, was a Soviet journalist for RIA Novosti and a former PGU KGB informant who defected to Canada.

After being assigned to a station in India, Bezmenov eventually grew to love the people and the culture of India, but at the same time, he began to resent the KGB-sanctioned repression of intellectuals who dissented from Moscow's policies.[3] He decided to defect to the West.[3] Bezmenov is best remembered for his anticommunist lectures and books from the 1980s.

https://en.wikipedia.org/wiki/Yuri_Bezmenov
Uncannily accurate, wasn't he?
"Most of the American politicians, media, and educational system trains another generation of people who think they are living at the peacetime…False. United States is in a state of war: undeclared, total war against the basic principles and foundations of this system."

Yuri Bezmenov