A subreddit epose of retailer Wayfair highlights some suspect product pricing and naming. Child trafficking?
While media outlets like Newsweek are dismissing this as a "Pizzagate style" conspiracy theory, there's definitely something fishy about this. Wayfairer's explanations about "gltches" and high-end products "temporarily removed" aren't entirely reassuring.
Read Newsweek's skeptical article HERE
While there is no hard evidence of anything here, it makes one wonder.
Baseless conspiracy nonsense? You'll have to make your own call on that one. MH And "industrial grade" throw pillows too. Oh wait, you just did an emergency update to rename them and changed the price too. That's some deep discounts🤷‍♂️ But why change the names too? Nothing fishy, sure. pic.twitter.com/K8q2lUMTox— Elvis K (@President46Yang) July 11, 2020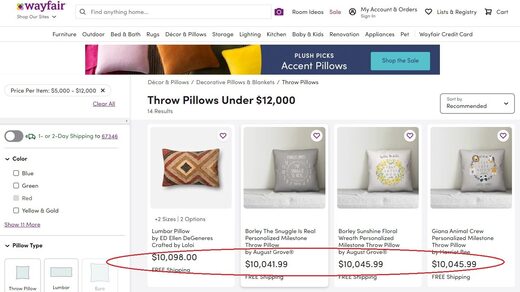 One more statement from Wayfair About pillow prices: "That is a glitch and something we're working to address." "To further clarify 'industrial-grade,' these products are industrial-grade, high-gauge stainless steel cabinets made in the USA primarily for commercial use."6:53 AM · Jul 11, 2020