Another catchy phrase emerges to promote the developing Technocracy. Where did it come from, what does it mean?
by Martin Harris 24/1/2021
So far we've had a variety of buzzwords and catchphrases coming fromworld leaders and local council authorities that most readers here will be familiar with: Common Purpose, Resiliency, Sustainability…the list goes on. On the surface they seem positive and perfectly innocent, but in the context of their usage, the discerning and knowledgeable will recognise the "dog whistling" code-speak of a concerted globalist plan which is being introduced by sly and underhanded methods. In plain un-coded language, a conspiracy. (To conspire="to breathe together"). There's nothing remotely theoretical about this conspiracy and it is becoming increasingly bold and transparent as the masses accept it with little or no question.
The latest phrase to join the list is "Build Back Better".
While BBB is becoming quite heavily used and promoted now (with most users claiming to have thought it up themselves). Kamala Harris gives Joe Biden credit for coining BBB: I call BS on that claim! Build Back Better has actually been festering behind the walls of Mordor, so to speak, for quite some time. I suspect Dark Lord Sauron used the phrase when rebuilding his Dark Tower.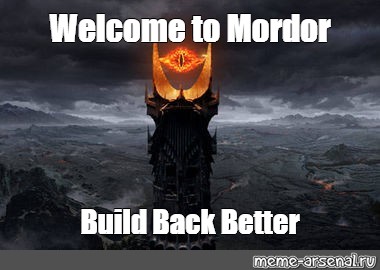 Leaving Middle Earth humour aside, who really thought up this phrase? None other than The Clintons!
LL_Propositions_FINAL.qxp (preventionweb.net)
Build Back Better is ostensibly all about natural disasters, specifically the recovery and rebuild process. And delving into it's history connects many loose pieces of the New World Order puzzle.
"Build Back Better" signifies an ideal reconstruction and recovery process that delivers resilient, sustainable, and efficient recovery solutions to disaster-affected communities. The motivation
behind the Build Back Better concept is to make communities stronger and more resilient following a disaster event. Statistics from the United Nations Environment Programme in 2008 show an increase in the number of natural disasters over time attributing to growing populations, urban growth in risk-prone areas due to scarcity of land, and global warming. Along with increasing frequency, recent disasters show an increase in magnitude and resulting destruction according to
studies by the Red Cross. Both natural and technological/man-made disasters have seen nearly exponential rises in the number of disasters over time.

Build-Back-Better-Principles-for-Reconstruction-Published-Chapter.pdf
Now, how many NWO dog-whistling words and phrases did you spot in that brief excerpt?
And note the mention of "technological man-made disasters". And how appropriate considering the next noteworthy mention of BBB. The Christchurch Earthquake of course. You know. The one that Hillary Clinton's informant declared was "on cue" in a communication exposed by Wikileaks (see above).
Post-disaster reconstruction in Christchurch: a "build back better" perspective
Build126-62-Helping-Christchurch-Build-Back-Better.pdf (buildmagazine.org.nz)
(PDF) Building Back Better: Learning from the Christchurch Rebuild (researchgate.net)
These are but a small sample of the documentation relating to BBB in relation to the Christchurch Earthquake rebuild. And yet, although we got sick of hearing the word "resilient", the phrase "Build back Better" was hardly seen or heard outside of officialdom.
Now, it would seem, BBB's time has come.
The "plandemic" of COVID-19 has provided a natural (?) disaster of global proportions fitting for the implementation of a global agenda. Suitable in fact, for a "New World" as the following document boldly and openly proclaims. Watch again for the same old coded wording which I have highlighted:
Build Back Better Diversity Project.pdf
"Providing leaders with a broad perspective on inclusion and diversity for 'New World' playbooks.
Whilst the outlook remains unclear and businesses face many challenges, there are also real opportunities to reshape the future and for the investment industry to emerge stronger, more resilient, and modernised.
Rapid change has already happened and people are expecting more, so let us seize this moment. Inclusivity and diversity are enablers to building back better.
With a strong sense that feelings of corporate inclusion have risen during the crisis, we need to leverage this momentum, as there is still a long way to go."
Please note: I have no issues with diversity and inclusivity devoid of hidden meanings. Diversity is a vital factor in all life on Earth, human or otherwise, and is something to celebrated and embraced. The author enjoys working relationships and friendships with people of both sexes, hetero and gay, from all corners the world, from all cultures, with all manner of political and religious beliefs. The issue being addressed here is certain words, phrases and slogans utilised to promote a specific and very inhuman agenda. The meaning is clear to those involved, (and to those inclined to research) but hidden to the general public while remaining comprehensible to all.
Build Back Better is a dog-whistling slogan. What it really means is "destroy first then reconstruct according a pre-planned, global agenda". And that agenda is very much Communist, technocratic, and totalitarian.
The cyclic dance of creation and destruction, as portrayed in Hindu imagery, appropriated and twisted by a handful of Elites who manipulate nature to their own benefit.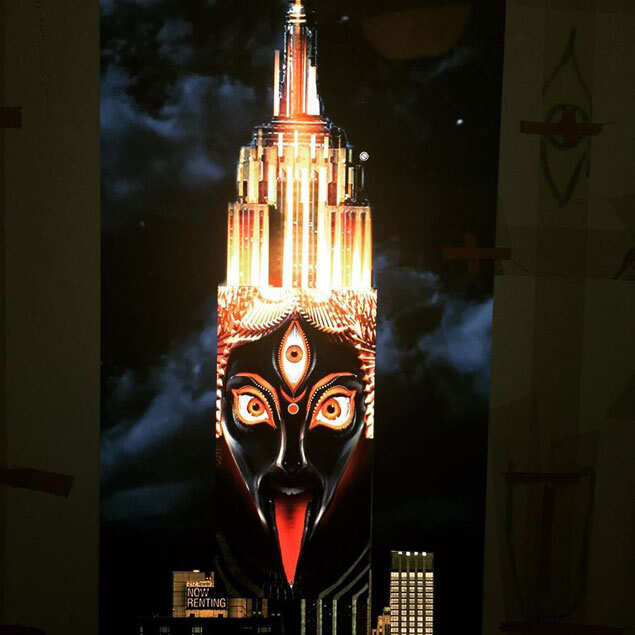 In the video below, the notorious Democrat "prayer" to "Brahma" and other gods delivered in the United States House of Representatives, January 3, 2021, by Rep. Emanuel Cleaver MO-05, a United Methodist pastor.
This now becomes crystal clear: Shiva and Kali destroy the "old world" to make way for Lord Brahma to begin the creation of the "new world": A New Normal. The "A-men and A-woman" comment may seem like a strange attempt at gender-equal speech to the un-initiated. It is really a reference to Shiva and Kali.
Build Back Better=Equal poverty for the many, greater power and wealth concentrated into the hands of the few.
The destruction can be accomplished on a local scale with the manipulation and utilisation of floods, earthquakes, and extreme weather, and on a more psychological level by harnessing terror attacks for political leverage. Or on a worldwide scale riding on the back of a well co-ordinated response to a heavily hyped viral pandemic.
Scenarios for the Future ofTechnology and International Development.pdf (PDFy mirror) : Free Download, Borrow, and Streaming : Internet Archive
The over-arching slogan Build Back Better encompasses infrastructure, technology, mental health, economics, religion, and of course politics.
It currently operates primarily under two "credible threats": Credible enough to be tangible and measurable, yet with selected and manipulated evidence to guide and galvanise public opinion and action. These threats, of course, are the "Climate Emergency" aka Climate Change, and the COVID 19 pandemic.
Watch for the slogan on TV, in the papers, and online. Once you've heard it, you will become attuned to it's increasingly frequent usage.
Hopefully, this blog gives some insight and joins a few dots. Martin