With Kiwis still reeling from today's big quake triple-whammy, I wonder if we've really learned anything.
by Martin Harris 5/3/21
Opinion
Christchurch Earthquake
Tsunami Threat 2021
Yes, three big shakes offshore with potential tsunami threats ending with a colossal 8.1 magnitude shallow quake. Thankfully no damage or deaths to report.
But then, we've been there before, when the Greendale earthquake of September 2010 struck in the early morning hours with similair lack of fatality (although there was damage aplenty). Reports of this as a "one in 14 thousand year event" gave false security to the uninitiated, and as we all know, the February 22, 2011 quake demolished much of central and eastern Christchurch with many grieving the loss of friends and family.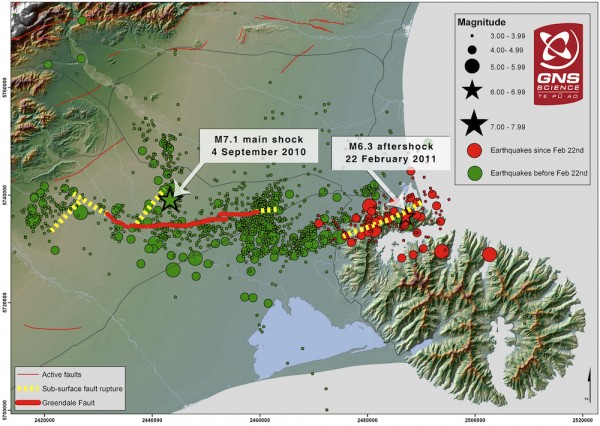 I wonder, given the "short memory syndrome" many humans seem to suffer, if history will repeat? Have we learned to remain vigilant and prepared or will we go back to "won't happen again in my lifetime" mentality?
https://nzhistory.govt.nz/culture/canterbury-earthquake-september-2010
Of course, the main threat this time around was the risk of tsunami. Again, this brought back memories of messy, and potentially catastrophic, evacuation management. In 2016, another large 'quake struck Kaikoura, drastically rearranging the landscape on a scale that is difficult to process.
Down the coast, here in Christchurch, we were well accustomed to shaking from the thousands of aftershocks that were still going, albeit with decreased frequency in 2016. So when my family and I were awakened by a heavy tremor, we simply shrugged and went back to sleep. Two hours later (still well before dawn) we were awakened yet again. A strange repetitive bleating: The coastal tsunami siren. So we arose, checked the internet and TV. A large 'quake in Kaikoura, all Christchurch coastal residents to evacuate.
"Wait…what!?" I thought. Two hours later? A bit late surely. Kaikoura isn't that far away. Out on the street, families were on the move. It seemed illogical. A knock on the door, a suggestion from Police to evacuate immediately. OK then…
Got the kids up, bundled them into the car, straight into chaos. Police directing traffic one way, fire services directing traffic another way. Total gridlock. And this is a stone's throw from the beach.
If the tsunami threat had materialised, the emergency services had sent us all to our doom.
Finally we got inland and spent the night in a shopping mall carpark, followed by breakfast at McDonalds (the only thing open and accessible). Then comes the all-clear over the airwaves.
Or so we thought.
Mere metres from home, our route was blocked by a Police car. "What's this?" Many hours have passed and the road is still cordoned off? "Sorry sir, I can't let you through until the siren stops". Yup. No one switched off the evac siren. We had to wait a little longer.
No logic, no apparent plan.
Actually, there were several plans, resulting in chaos. "The" plan, it turned out, was locked in someone's desk drawer at Civil Defence. Great stuff. And some bright spark decided, some two hours after the fact, that perhaps someone ought to turn the sirens on. Then forgot to turn them off again…
You can read the official report and review of the whole shambolic mess here:
Review-of-the-Tsunami-Evacuation-2017.pdf (ccc.govt.nz)
And here we are, 2021. Coastal-dwelling North Islanders are evacuated, then given the all-clear. Then another shake hits and its sorry guys; back up the hill. We've still got some improvements to make, claims NEMA Minister Kiri Allen.
Earthquakes: Traffic mounts as residents flee for higher ground | Newshub
Surely, we know that large earthquakes aren't isolated. There are always violent aftershocks. Some come almost immediately, some much later. Apparently though, we've forgotten.
Radio New Zealand sums up the morning's drama and "on again off again" chaos:
"Civil Defence issued a land and marine tsunami warning for New Zealand coastal areas, with an emergency mobile alert issued to areas under threat.
The first waves were detected on East Cape about 3.25am, officials said. They warned the first wave may not be the largest and tsunami activity was expected for several hours.
About 4.20am, people in Hawke's Bay were told they were able to return home.
…Some nine aftershocks had been recorded by GeoNet by 4.44am, ranging from 4.4 in magnitude to 5.3, and five further aftershocks followed in the next 20 minutes.
Just before 5.30am, Civil Defence said based on the scientific advice and information they had at the time, there was no longer a land threat – evacuees were able to return to their homes…
About 6am, Civil Defence cancelled the tsunami warning and said the threat of strong and unusual currents had passed. Power had also been restored in Tolaga Bay by about 6.30.
Then another earthquake hit…
Civil Defence issued a new tsunami warning just before 7.30am – once again coastal areas were expected to experience strong and unusual currents and unpredicatable surges at the shore…
At 8.28am, a 8.1 magnitude quake struck, at a depth of 10km, also near the Kermadec Islands.
Another tsunami warning. People near the coast from the Bay of Islands to Whangārei, from Matata to Tolaga Bay, and Great Barrier Island were told to evacuate immediately…
Earthquakes and tsunami threats in New Zealand: How Friday unfolded | RNZ News
Another thing. For several weeks now, Civil Defence and the government have been rather stridently pushing the "have you got a tsunami plan?" advertising. Full front page ad in the local rag even. Did they have some clue this event was coming? You'd think they'd have their own plan in place wouldn't you? Or perhaps they have…?