We all know politicians engage in propaganda. But most don't admit it.
Posted on March 7, 2021
By Dr Muriel Newman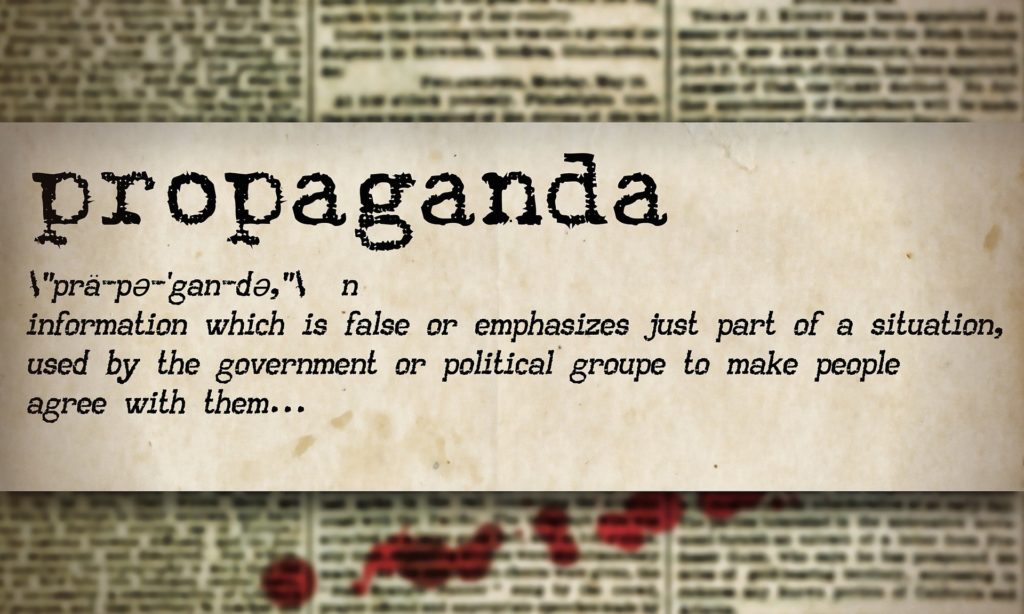 Not so Prime Minister Jacinda Ardern. Desperate to avoid allegations of mismanagement over Auckland's bungled lockdowns, she began lashing out, claiming individuals have been knowingly spreading the virus – including a young man who'd spent time in Managed Isolation:
"We drum in that messaging around the dangers of Covid pretty diligently for a full two-week period of sustained propaganda."
As Stuff's Political Editor Luke Malpass pointed out, with those remarks the Prime Minister has now put on record that "the Government has been propagandising Kiwis". He says however, no-one should be surprised: "the Ardern Government has been delivering a masterclass in propaganda since the pandemic began" – ultimately delivering Labour a crushing election victory.
In fact it was Radio NZ last March, that revealed the Government had spent tens of millions of dollars building a formidable propaganda machine: "The government contracted 28 individuals or businesses to aid the response to the pandemic, the bulk of which were for advertising, marketing and communications. As at 31 May, the government had paid out $16,393,391 to contractors.
"The majority was to two firms who are listed as communications directors by the Department of the Prime Minister and Cabinet. Clemenger BBDO was paid $3m for its role, which involved the clear and concise messaging such as 'stay home, save lives'. But the biggest earner OMD, a multinational advertising firm… was paid $12m for its role in the response."
It turns out that everything from "the team of 5 million" to the "be kind to each other" messaging was carefully planned, tested and executed.
At the time, Newstalk ZB's Mike Hosking was scathing that so much money was being spent on 'spin': "Extraordinary, isn't it? It shows just how much we got played by a government that was as desperate to score points as it was to actually address a health crisis. Is communication important? Of course. But do you need to pay $16 million for it? No. This wasn't simple instruction that any government can come up with, this was clearly a highly planned, seriously worked over piece of strategy designed for maximum political impact.
"And the irony is, from the advertising agencies point of view, it worked. We got sucked in, followed orders and came out hailing the Prime Minister with a 59 percent share in a poll. Value for money then? Or a master piece of fantastically expensive spin? Again, we were played like a fiddle."
And we are still being played.
While the latest South Auckland community outbreak of Covid-19 was clearly the result of a failure of Government border security, the Prime Minister is attempting to shift the blame onto the public.
The actual cause of the February 14 infection of a Papatoetoe High School student and her parents, has not been identified, although it seems possible that it could have been associated with the mother's employment at LSG Sky Chefs in Mangere, which provides laundry and catering services to airlines from around the world.
With a large number of potential contacts associated with the outbreak, including 1,500 students and 150 staff at Papatoetoe High School, along with 450 Sky Chef workers, Auckland was ordered into a 3-day lockdown.
On the 17th, the day the lockdown was lifted, a second family with three cases linked to the school was identified. At that stage, negative tests had only been received from 59 percent of 'close contacts' at the school, and 76 percent of 'casual contacts', with many students and staff still waiting to be contacted by health authorities.
A week later, when a third household with an infected student (Case I) and two sisters joined the cluster, the Prime Minister lashed out, accusing a family member of going to work at a Botany KFC instead of isolating at home. She even threatened section 70 orders, which enable the medical officer of health to require people to isolate: "We have some legal footing for that … and so there are repercussions."
The Prime Minister's attacks incited such savage criticism of the KFC worker, that she was forced to defend herself – and her sister, who worked at Kmart – explaining they hadn't been told to self-isolate! She demanded an apology from the PM.
The Ministry of Health backed the family. On their 'Unite Against Covid' Facebook page, they explained the sisters had done nothing wrong: "Case J (Kmart worker) and Case L (KFC worker) were not required to isolate at the time. The advice for all staff and students of Papatoetoe High School to isolate was updated on 23 February, after the two had attended their shifts at the workplaces. Initially, casual contacts were advised to get a test and self-isolate but their household members were not required to do so. The family complied with the advice they were given at the time… COVID-19 remains the problem, not the people who have it."
Despite the damage caused by the PM's accusations, she has not shown the kindness she asks of others – she has not retracted her criticism nor apologised for the distress she caused the family.
By Friday February 26, the cluster had grown to 12 people, and on the Saturday, the discovery of two new cases from the household of a Papatoetoe High School student who had tested negative three times, led to a late-night press conference and the shock announcement of another Auckland lockdown, this time for seven days.
The Prime Minister justified her decision by explaining that while the new cases involving a young man and his mother couldn't be directly linked to the existing cluster, she was confident a connection would be found.
The link was indeed established the very next day – the mother had earlier been in contact with one of the other infected families – raising an important question: why was the announcement of the second Auckland lockdown made in haste late at night, when holding off for one more day would have shown it was unnecessary?
To deflect such criticism, the Prime Minister attacked the young man, blaming him for the lockdown, alleging that he'd knowingly defied instructions from health professionals to stay at home after receiving a Covid test – although it turns out there was no evidence to back up such claims.
Clearly concerned the public would begin to question the need for the second lockdown, the Prime Minister dialled up her scaremongering. She reminded everyone that "Covid kills" and called for "the team of 5 million" to "be kind" to each other while dobbing in their family and friends.
At her post-Cabinet press conference on Monday March 1st, the PM reiterated, "even with the full understanding of human fallibility, it is not appropriate and it is not OK for members of the team of 5 million to let the rest of us down. I think we appreciate this virus can mean life or death; it is a virus that kills. Our plan is for short and sharp restrictions in order to break the chain of transmission, but rule breaking can prolong that plan. So that is why I'm asking everyone to continue to back and support one another, and if that means calling a family member or work colleague out for not following the rules, then we should do that. Do it with kindness, but do it."
Using the well-known propaganda technique of deflection, Jacinda Ardern is blaming the infected to ensure the focus stays away from the real cause of the outbreak – government mismanagement of the border….READ MORE
Hidden Agenda
2030 Agenda
Alternative News Sources