While the MSM protects Biden daily with crafty editing-out of his gaffes and bizarre behaviour, this is what the world ought to know about the fake president. MH
Maria Piacesi, the niece of Montana Senator Steve Daines, has revealed that Joe Biden squeezed her nipple in front of the world's media when she was just eight years old.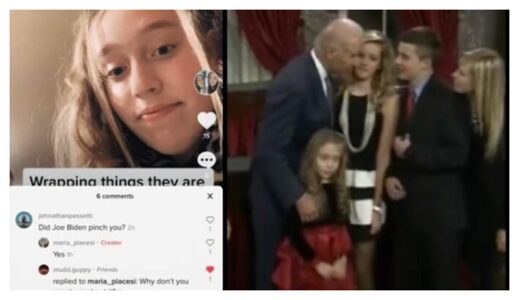 In 2015, then-Vice President Joe Biden was photographed fondling the right nipple of Piacesi, the daughter of Montana Senator Steve Daines' sister Christine and her husband Rob Piacesi, during a senatorial swearing-in ceremony.
C-SPAN.org used to have the original footage, but it was pulled down after Democrats and major media sites warned viewers not to believe their own eyes.
Maria now confirms Creepy Joe pinched her, but she's afraid to speak out.
She was the 8-year-old (now 14) who Joe Biden allegedly molested on stage, according to Maria's testimony.
An internet sleuth found her Tik Tok profile and asked her about the "incident".
She confirmed that Biden pinched her right nipple but she is afraid to speak out and that even if she did speak out nothing will be done about it!
READ THE REST HERE
Martin comments: Maybe they'll use this to boot Joe out and give Kamala the top job?