Sound familiar, Kiwi readers? MH
Prime Minister Scott Morrison has teased fellow Australians with a return to some normalcy by Christmas, provided they vaccinate in large enough numbers and pressure provincial governments to cooperate.
RT
Sun, 26 Sep 2021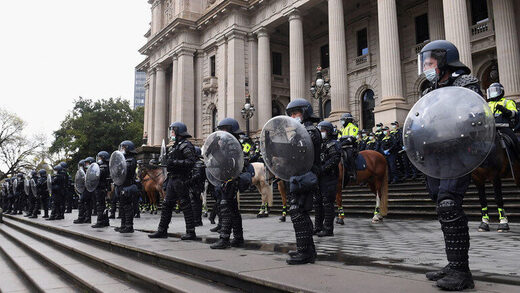 The Australian leader hailed his government's handling of the Covid-19 pandemic on the sidelines of a multilateral Pacific security summit in Washington, DC. "Sadly, here in the US more lives have been lost in one day than we've had over our entire experience in the pandemic… But we've also got to give people their lives back," he said in an interview with Channel Seven.
"We can ensure that Australians can go forward and not be held back by the strong controls we've had to live with. They've got a use-by date on them."
Comment: We'll see about that. Because in the UK they're hoping to, yet again, extend these 'emergency' powers.
Australia has had some of the strongest anti-coronavirus measures in place and has been aggressively enforcing them. A boiling frustration with the lockdowns was highlighted this week by violent protests in Melbourne. They were spearheaded by construction workers, who were ordered to suspend all work without pay after the Victoria government reported wide-scale violations of health guidelines in the industry. The protests were generally dismissed by Australian officials as the actions of a small radical minority venting their anger.
Speaking to the Weekend Sunrise program, Morrison offered a vision of a Christmas without the worst of the restrictions, including the ban to cross interstate borders in Australia.
"Once you go to 80% of your population that is vaccinated, I can't see any reason why Australians should be kept from each other," he said, challenging provincial governments to deliver on their part. He said within weeks there will be enough vaccine doses in Australia to jab everyone who wants it.
His message to Australians, the PM said, is that what he would "like them to have for Christmas is their lives back; and that's within the gift of governments and that's a gift I'd like to see us give them."
Martin comments;
Exactly the same Faustian Bargain is being offered by Comrade Ardern here in NZ. Except here they want a more ambitious "90% plus" jab rate. Trouble is, there is no further plan, no "what happens next", and no certainty in the language used. Even former PM John Key has raised this point recently. Which suggests that there isn't an exit plan because our government wants to use lockdowns as a Damocles sword hanging over our heads as a means of punishment/control.There is no exit, and no return to the "old normal".