Remember the Ozone Hole? Used to be the hot environmental topic before Al Gore and the Church Of Global Warming. In fact it's been so long since I heard anything about the Ozone Layer that I did a double-take when I saw this item.
Being an unrepentant tin-hatter I have to link an agenda to this. So I wonder, could this somehow relate to HAARP? The infamous array at Alaska has at times been promoted as a potential saviour of the planet by rejuvenating the Ozone Layer (while others point out that HAARP could equally be responsible for it's destruction). Since HAARP is now supposedly casting aside it's aura of secrecy and putting on a big PR show, perhaps an engineered "OMG The Ozone Hole Is Back! Only HAARP can save us!" plot is in the making?
A NEW THREAT TO THE OZONE LAYER: High above Earth, more than 20 miles above sea level, a diaphanous layer of ozone surrounds our planet, absorbing energetic ultraviolet rays from the sun. It is, essentially, sunscreen for planet Earth. Without the ozone layer, we would be bathed in dangerous radiation on a daily basis.
For more than 30 years, the Montreal Protocol has regulated ozone-destroying chemicals, allowing Earth's ozone holes to heal and shrink. But there's trouble on the horizon. An international team of researchers led by David Oram of the University of East Anglia has found an unexpected, growing danger to the ozone layer from substances not regulated by the treaty.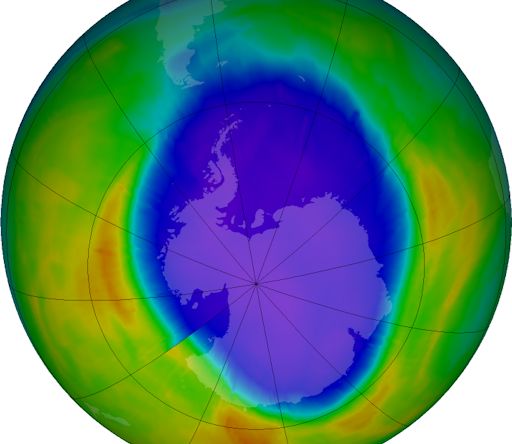 Above: The Antarctic ozone hole in Sept. 2016. [more]
The danger comes from a class of chemicals known as "chlorocarbons." Dichloromethane is an example. It is used in paint stripping, agricultural fumigation, and the production of pharmaceuticals. Over the past decade dichloromethane became approximately 60% more abundant. "This was a major surprise to the scientific community and we were keen to discover the cause of this sudden increase," says Oram.
Developing economies in East Asia appear to be the source. "Our estimates suggest that China may be responsible for around 50-60% of current global emissions [of dichloromethane], with other Asian countries, including India, likely to be significant emitters as well," says Oram.
Dichloromethane and similar chemicals were not regulated by the Montreal protocol because they were thought to be too short-lived to reach the ozone layer. However, East Asia has a special pattern of circulation that can push these chemicals skyward, very rapidly.  It's a two-step process: Cold-air surges in East Asia quickly carry industrial pollution into the tropics. "It is here that air is most likely to be uplifted into the stratosphere (where ozone is located)," says co-author Matt Ashfold of the University of Nottingham Malaysia Campus.
Read the original research in the journal of Atmospheric Chemistry and Physics: "A growing threat to the ozone layer from short-lived anthropogenic chlorocarbons" by Oram et al.
https://uncensored.co.nz/2017/09/25/haarp-back-online-jim-lee-must-listen/