Here's a few samples of the insane weather battering the globe right now. 
https://earth.nullschool.net/#current/wind/surface/level/orthographic=18.99,44.89,271/loc=-42.692,4.561
It's FEROCIOUS Friday! Storm Callum brings travel chaos with flights, trains and ferries CANCELLED on Eugenie's big day as 70mph gales and torrential rain pound UK
-Storm will bring 6.3in (160mm) of rain to south Wales and batter Northern Ireland and south west England
-Met Office has issued amber 'danger to life' warning and yellow warnings are in place for high winds and rain
-Forecasters say there is 'good chance' some communities could be cut off by flooded roads and power cuts
-Trains in Wales have been cancelled with Ryanair, Flybe and AerLingus flights no longer running or delayed
-It comes after London recorded the highest October temperature for anywhere in UK since 2011 this week
Freak 'hailnado' blankets towns with tennis-ball-sized hail
TALKS are under way to determine if the hard hit South Burnett region should be declared a disaster zone, with entire crops lost at harvest time, and roofs off homes.
-The storms packing tornado-driven hail cut a swathe of devastation right across southern Queensland.
-About 1000 Queenslanders have made insurance claims today, according to the Insurance Council of Australia.
-That figures is expected to skyrocket over the weekend, however, as residents begin to count the cost of the damage.
Michael's not done yet — path of destruction stretches north from Florida
Key developments
• Where is Michael? As of Thursday evening, the storm was centered about five miles northwest of Roanoke Rapids, North Carolina with maximum sustained winds of 50 mph.
• Power outages are on the rise: 1.3 million customers in six states are without power, including 604,831 in North Carolina.
• Victims identified: The dead include four people in Florida, a child in Georgia and a man in North Carolina.
• Public health emergency declared in Georgia: The declaration will help ensure those who rely on Medicare and Medicaid have access to the care they need, Health and Human Services Secretary Alex Azar said.
NZ:
http://m.metservice.com/warnings/swx
Severe gales for Marlborough, Wellington and Taranaki, and heavy snow for Canterbury and Marlborough
A trough of low pressure, followed by strong cold southerly flow, moves east across northern New Zealand tonight (Friday). Snow is expected to low levels over many parts of the upper South Island, and severe gale southerlies for parts of central New Zealand.
AND EVEN IN SPACE!
SPACE LIGHTNING OVER TEXAS: Northern Fall has arrived. But in West Texas thunderstorms are crackling like it's mid-summer. On October 6th, a powerful squall line swept across Texas, strafing the landscape with bolts of lightning and shooting jellyfish sprites up toward the edge of space. Paul Smith photographed these specimens 165 miles away from the storm in Minco, Oklahoma: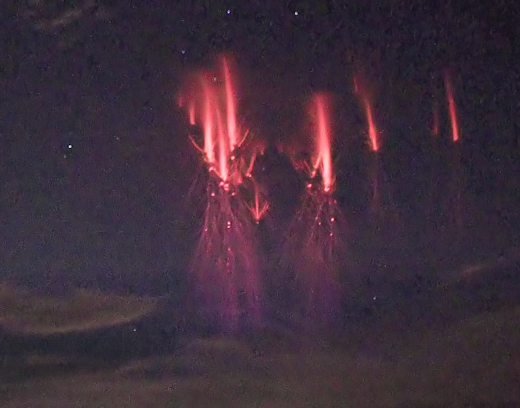 "The sprites were fantastic," says Smith. "I photographed quite a few through gaps in clouds before the sky became completely overcast."
Sprites are an exotic form of upward-directed lightning–sometimes called "space lightning" because their tendrils can extend to the very top of Earth's atmosphere. You have to be far away to see them over the edges of towering thunderclouds.