Although Tolkein's words were written in a fictional setting, he based his words upon real experience.
Row upon row of white crosses. Young men sent to their deaths.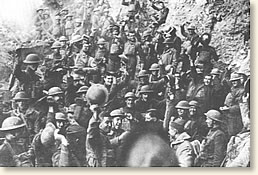 One hundred years ago, young men facing each other across the corpse strewn no-mans land between trenches, put down their guns and suddenly had nothing to fight for. Moments ago they were enemies, now they were just tired and battle scarred youths glad to see the end of the carnage and horror. Or what should have been the end of it.
So who is "The Enemy"?
Who sent these boys to war?
Who benefitted from their deaths?
Who profited?
I think you know the answer
Martin Harris