Meet L Ron Hubbard. He was a hell of a sci-fi author. And quite the puppeteer.
Opinion by Martin Harris 13/12/19
Hubbard was also the founder of Scientology. Some people see Scientology as a harmless, wacky cult. Others see it a dangerous organisation. One thing's for sure: Scientology targets the wealthy and the famous to fill it's ranks. Once in, one doesn't leave easily, regardless of how powerful and well-heeled one may be. Careers are easily destroyed.  
Another thing: teenage girls. Once Scientology was well established, Hubbard sequestered himself away on his private yacht, surrounded by young ladies who were groomed and schooled to act as his couriers and messengers. These girls could not only memorise Hubbard's words, but also mimic his vocal tone and mannerisms perfectly. These girls would turn up at Scientology branches and relay orders, admonishments, directives and so on as if it were LRH himself speaking directly. 
The first Commodore's Messengers were appointed by L. Ron Hubbard in 1968 while he was living aboard the Sea Organization ship called the Apollo. These messengers were his personal administrative assistants and operated solely under his direction, ensuring that Scientology management was following Hubbard's policies.[5]

The original four messengers were Janis Gillham (aged 11), Terri Gillham (12), Annie Tidman (12) and Suzette Hubbard (13), who was later replacedby Claire Popham (13).[6][7] In 1975 while sailing in the Caribbean, due to the heat and humidity, the Messengers devised their uniforms themselves: white shorts, tie tops and platform shoes with knee high socks.[7] Messengers conveyed messages from Hubbard and they were trained to mimic Hubbard's exact tone and mannerisms.

One Sea Org member recalled inquiring why Hubbard chose young girls for the role of messenger. Hubbard reported that "Hitler was a madman, but nevertheless a genius in his own right and the Nazi Youth was one of the smartest ideas he ever had. With young people you had a blank slate." [8] Hubbard further argued that he picked girls because women were more loyal than men.'[

https://en.wikipedia.org/wiki/Commodore%27s_Messenger_Organization
More immediately familiar to most readers will be Jeffrey Epstein and Ghislaine Maxwell. This delightful duo, while not exactly being the founders of a church or cult, nevertheless headed a "club" of sorts, a secret circe that lured in the rich and powerful and retained their loyalty and silence with leverage over their reputations and careers. 
The lure that Epstein and Maxwell used to hook in their "club" members was of course, teenage girls. These girls were, of course, victims themselves. Seduced by "easy money" and parties with the Rich and Famous, then trained (or threatened) to go out and recruit others. 
It could be said that Hubbard's girls too could be seen as victims as well as operatives. Interesting comparison. 
Which leads me to the Climate Change cult. Thanks to huge mainstream media collaboration and a carefully orchestrated, UN-led campaign of propaganda, this cult has gained massive, unprecedented publicity. And while some see it just as a harmless, wacky cult, and others view it as something more dangerous, the vast majority believe the message unquestioningly. Iike the previous examples, this cult targets the Rich and Famous to harness their influence over the masses. 
And yet again, we find that teenage girls are both the messenger and the victim.  
In the case of the Climate Cult, one teenage girl in particular acts as the public figurehead. The messenger, groomed and schooled not just to relay a message, but as per Hubbard's Sea-Org girls, to do so with drama and in perfect mimicry of those who train her. She is also, like Epstein's girls, used to lure in and recruit other teenagers (in this case of both sexes). 
And so it is interesting to compare contrasting public response to these three cases. 
Few people outside Scientology know of the Sea Org and it's brainwashed messenger-girls, but I doubt many would approve. "Salvage the planet"?Seriously? More like brainwashing surely? Aren't these impressionable young girls being used as mere puppets? Disgusting!
The case of Epstein and Maxwell and their ring of power and abuse has been met with responses of shock and outrage. And rightly so. A few years ago this kind of thing seemed to be the stuff of "conspiracy theories" Such a nightmare to discover "its all true". To think our leaders and their elite friends were using teenage girls for their own ends. Who would have ever thought that Icke guy was right, hmm?
So, what about the last example?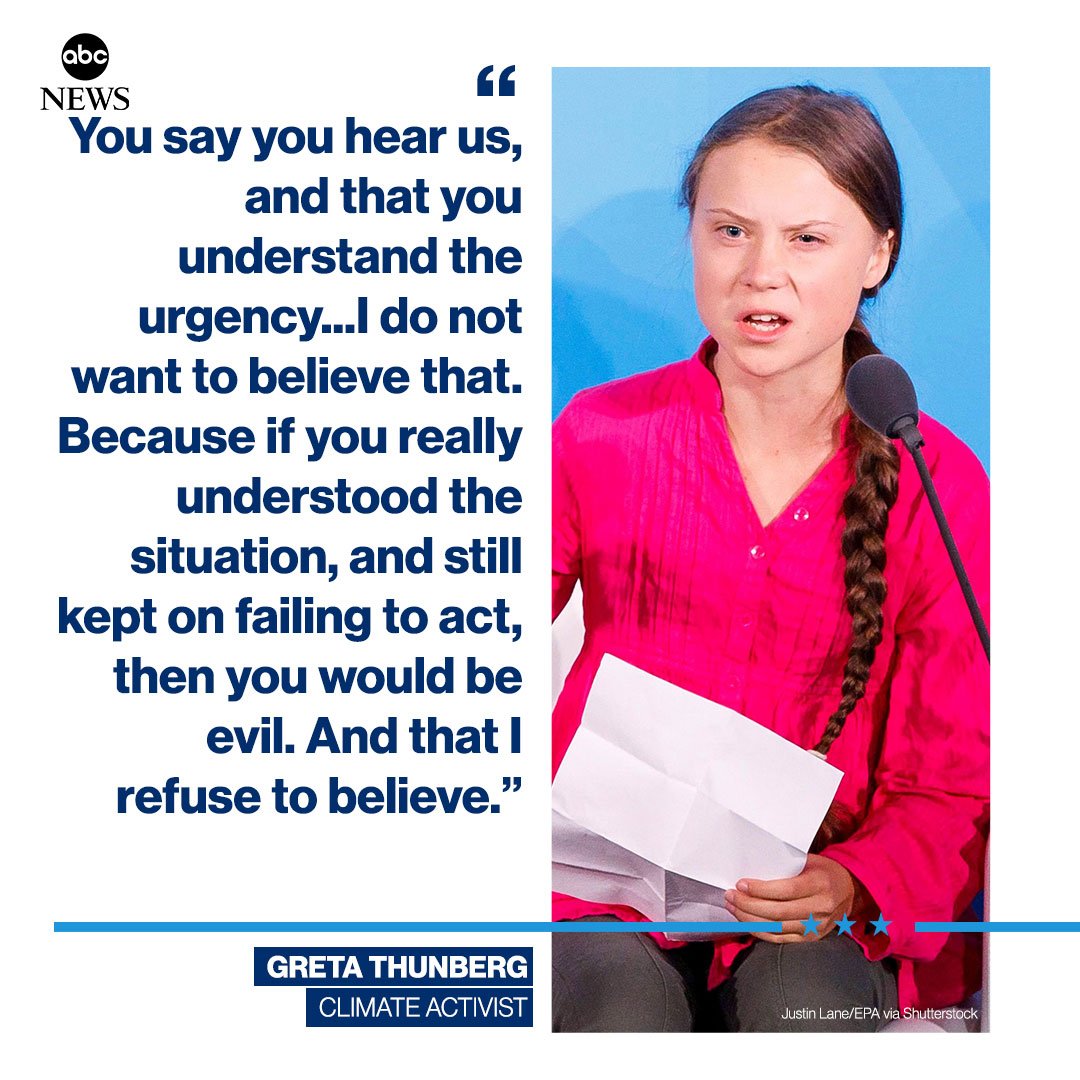 An autistic girl in her mid teens. Carefully coached, her fears and phobias fed and manipulated. Used as a puppet to leverage and coerce the movers and shakers of the world. The "Greenerati". Why? To get their loyalty and their money.  
Scientology, Epstein-Maxwell, the Climate-Cult (Globalism in disguise). All want the same thing. Loyalty by leverage; money and power and control. 
And yet in the case of the Globalist Climate Cult, we bow down to them, glorify them, go along with their claims and their fearmongering.
And the young lady? We raise her on a pedestal like a deity or some legendary and infallible oracle. We praise her well-coached alarmist speeches. We proclaim her the "successor of Christ" And then we put her on the cover of Time magazine.
All That stuff about her being a puppet is "conspiracy theory stuff", right?
Never learn, do we?
Ladies and gentlemen, we give you Time's Person Of The Year: