"Must read" item! Ben specifically requested that I share this article from his archives and it is indeed something that we should all be aware of.
While the "bookburning" is nothing new, (refer the documentary Skeletons in the Closet for instance) it is quietly gaining momentum as history and heritage is being covered up or rewritten to suit the new narrative. MH
Opotiki, Gore, Titahi Bay and Waikanae, libraries have been shuttered within the past year due to toxic mould. Same exscuse mould/ earthquake engineering, which as Southland Gallery & Nelson Trafalgar centre show (both closed by bureaucrat Clare Hadley) was an utter lie.
So what gives??
by Ben Vidgen, BEN'S WORLD
As closed signs pop up collections are looted purged and or collections moved out of reach of public researchers. As developers and smart technology hyenas move in.

https://thespinoff.co.nz/books/20-01-2020/the-national-library-cull-of-600000-books-could-be-a-disaster-for-researchers/

"Internal Affairs briefing, Hon Tracey Martin, Minister of Internal Affairs
Title: Management of the National Library's Overseas Published Collections
Date: 11 December 2018
Action sought: Approve the removal of all overseas publications from the Overseas Published Collections, excluding those in subject areas identified as collecting priorities in the Overseas Collecting Plan, and in alignment with the 2015 National Library Collections Policy.
Note that due to evidence of low demand and the age of the material, secure destruction of removed items is the most likely outcome". The Spinoff astutely states "Why is this being done so quietly? Why is it being done so quickly? The library asserts that these are books we no longer want, need, or can afford to house. But it hasn't actually asked most of the people who might want continued access to them, and for most of the last year it's kept very quiet about the process".
https://www.stuff.co.nz/marlborough-express/news/65582736/library-cull-hits-school-resources

"Cutting student access to the National Library's specialist non-fiction books has been a long time coming, according to one Marlborough principal, and another says her students are losing a valuable resource. The library announced it would be cutting its curriculum topic support service from term three. Instead of being sent hard-copy books, students would instead be directed to "curated online resources".
Meanwhile around the country a growing number (were adding unfortunately to this link farm all the time) of galleries and library's shut.

https://www.stuff.co.nz/…/wellington-city-library-to-close-…
https://www.newsroom.co.nz/…/calls-to-privatise-wellington-…
https://www.stuff.co.nz/…/upper-hutt-library-may-have-to-va…
https://www.nzherald.co.nz/kapiti-news/news/article.cfm…
===================
Auckland.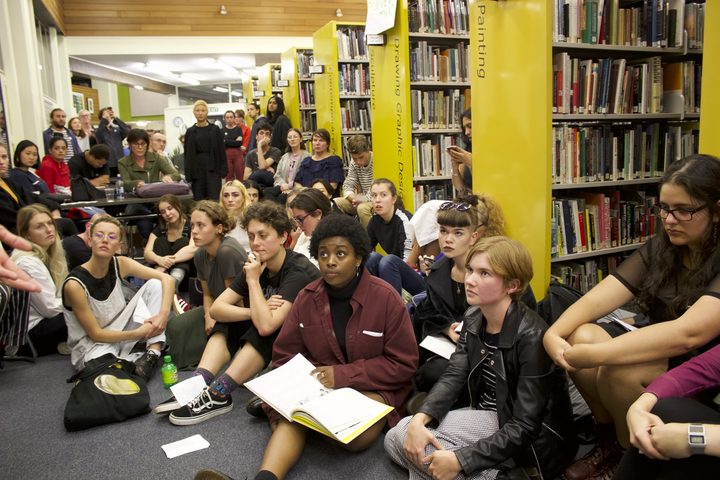 The 2018 sit in protest at Auckland University's fine arts library. It made TV but not what the students were protesting about the plan to burn books literally as the collection is culled. The vice chancellor dismissed notion books would be destroyed but an A Radio New Zealand staff member "who helped close down the engineering library over a year ago told RNZ about 10,000 books were incinerated because it was the cheapest and quickest way to get rid of stock".

No money to house books but money to buy a $5 million dollar mansion for the vice chancellor.
"A couple of years ago the University of Auckland closed a couple of its specialist libraries in the architecture and fine arts departments under the justification that the cost of keeping them open was too high and the university couldn't afford them," .
"At a time when students are facing severe financial hardship this is terrible. The university is funded by both taxpayers and fees from students.""
https://www.stuff.co.nz/national/119122778/auckland-university-buys-5m-parnell-mansion-for-incoming-vicechancellor?fbclid=IwAR0jR0LJdpyrWPDlLGWqOZSC5s9NHiT9jZkWqZ7RqphBQCy-Wy4OaY-Er_g
https://www.rnz.co.nz/news/national/354765/library-closures-prompt-fears-university-of-auckland-will-burn-bookshttps://www.newshub.co.nz/home/new-zealand/2018/06/auckland-university-confirms-library-closures-despite-huge-protests.htmlhttps://www.nzherald.co.nz/nz/news/article.cfm?c_id=1&objectid=12075286https://architecturenow.co.nz/articles/loss-and-libraries/
https://www.pantograph-punch.com/post/more-than-books
https://www.nzherald.co.nz/nz/news/article.cfm…
https://www.newshub.co.nz/…/auckland-university-confirms-li…
https://thespinoff.co.nz/…/why-closing-the-art-libraries-a…/
https://www.nzherald.co.nz/nz/news/article.cfm…
https://thespinoff.co.nz/…/1…/the-gallery-of-all-our-dreams/
========================================
Southland

https://www.rnz.co.nz/…/southland-museum-remains-shuttered-…
https://www.stuff.co.nz/…/invercargill-mayor-surprised-by-m…
https://gorelibraries.govt.nz/…/gore-library-closure-and-r…/
https://whatsoninvers.nz/winton-libraryoffice-closed-due-t…/
=================================================
Manawatu
https://www.stuff.co.nz/…/shedding-some-light-on-the-closed…
https://www.eventfinda.co.nz/…/continuing-…/palmerston-north
==========================================
Chch
https://natlib.govt.nz/records/31237877…
https://www.ccc.govt.nz/news-and-events/newsline/show/3507
================================
Otago.
https://www.odt.co.nz/…/gallery-closed-rest-year-after-moul…
====================
Napier
https://www.napier.govt.nz/…/napier-library-temporarily-clo…
Rotorua
https://commons.wikimedia.org/wiki/File:Museum_Closed_(31102908153).jpg