How many times does this have to raise its head? The internationally recognised "OK" gesture is NOT a White Power sign!
Here's some typical misinformation from a Woke source;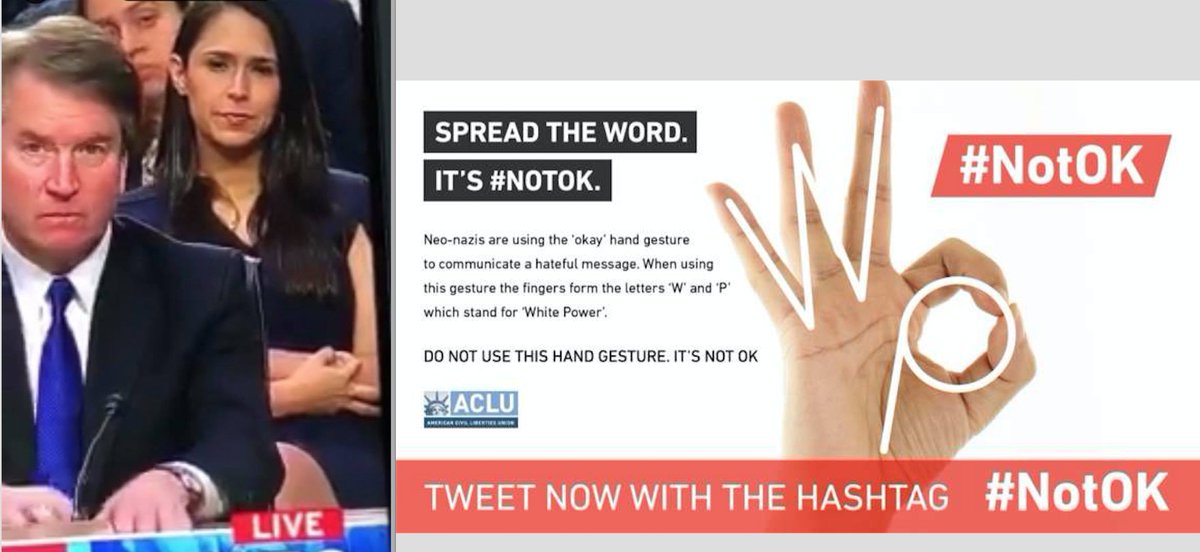 The mischevious and notoriously subversive 4chan message board collective started the ball rolling as a 'Larp' (an online stunt, usually a prank at someone else's expense).
It started in early 2017 as a hoax. Some users of 4chan, an anonymous and unrestricted online message board, began what they called "Operation O-KKK," to see if they could trick the wider world — and especially liberals and the mainstream media — into believing that the innocuous gesture was actually a clandestine symbol of white power.

"We must flood twitter and other social media websites with spam, claiming that the OK hand signal is a symbol of white supremacy," one of the users posted, going on to suggest that everyone involved create fake social media accounts "with basic white girl names" to propagate the notion as widely as possible.

New York Times
The overwhelming usage of the "okay" hand gesture today is still its traditional purpose as a gesture signifying assent or approval. As a result, someone who uses the symbol cannot be assumed to be using the symbol in either a trolling or, especially, white supremacist context unless other contextual evidence exists to support the contention. Since 2017, many people have been falsely accused of being racist or white supremacist for using the "okay" gesture in its traditional and innocuous sense.

Anti Defamation League
And the latest target for wrongful accusation of white supremacy is a group of flight students celebrating a successful graduation. Not content to ruin the student's celebrations and reputations, the gutter-press lowlifes at Stuff.co.nz (closely followed by the NZ Herald) also rub salt into the wound by pointing out that fellow students at the Christchurch based flight school were victims of the March 15 mosque shootings.
The Stuff article adds almost as a footnote:
In a written statement, IAANZ said the young men had been interviewed and the school was confident they were not intentionally pulling the hand gesture to symbolise a connection to white supremacy.

Christchurch trainee pilots display 'OK' hand gesture mosque gunman showed in court | Stuff.co.nz
Which defuses the whole thrust of the article prior to this paragraph! Of course they weren't symbolising a WP connection. Grow up, Stuff!
And this isn't the first time innocents have had their reputations (and potentially their future careers) blemished by Woke idiots.

Officer cleared after appearing to flash white power sign at Oregon protest (NBC News, 2020)
'Okay' sign appeared at the Army-Navy game, and we couldn't look away – The Washington Post
Hate sign or silly game? Military academies probe hand signs (AP, 2019)
Look up "The Circle Game":
Urban Dictionary: The Circle Game
The Circle GameA game of peripheral vision, trickery and motor skills.
The game starts out when the Offensive Player creates a circle with their thumb and forefinger, not unlike an "A-Okay" signal, somewhere below his waist.
His goal is to trick another person into looking at his hand. If the Victim looks at the hand, he has lost the game, and is subsequently hit on the bicep with a closed fist, by the offensive player.
U.S. Military Academy officials are investigating several cadets who were caught on camera flashing hand signs at the Army-Navy football game on Saturday. Screenshots of the hand gestures went viral on social media, where woke Twitter users asserted that the cadets had made the white power "OK" symbol.

Young extremists in the Army and Navy? That's one possibility. The more benign explanation—and a far more likely one—is that the cadets were playing a well-known kids' game that has nothing to do with white supremacy.

It's Pretty Unlikely the Cadets Were Flashing a White Power Hand Symbol at the Army-Navy Game – Reason.com
SHAME ON YOU STUFF
SHAME ON YOU NZ HERALD
Stop perpetuating misinformation: People's lives can be ruined by this nonsense!
A little basic research reveals that there is however, one potential negative use of this sign that is valid:
I think it is safe, however, to say that these flight students were NOT Satanists!!