Hearing? Don't bother. Here's all you need to hear!
During these times when the Democrats are terrified of Trumps return, and the recent hearings have been engineered to reinforce a fake narrative that claims Trump encouraged violent action on January 6 2021, we present factual and clear evidence that he acted to discourage such acts even as his words were being censored.
by Martin Harris 30/6/22
Trump calls for peace and respect for law and order, so Zuckerberg bans him. And just who were the ringleaders of the storming of the Capitol Building?
'If you don't fight like hell you're not going to have a country anymore'
Trump's lawyers have argued his use of the word "fight" was figurative, which has long been accepted in public discourse.
Consider the Anti-Mandate protests here in NZ, which were "fighting for our rights and freedoms" but were peaceful marches. Uncensored readers will be familiar with the concept of "fighting like hell" for what we believe in, using marches, sit-ins, petitions, letters to authorities, debates, meetings and sharing knowledge and information.
'Peacefully and patriotically make your voices heard'
This was the part of Trump's speech that his defenders have seized on to show that he never incited the crowd.
He said: "I know that everyone here will soon be marching over to the Capitol building to peacefully and patriotically make your voices heard."
Yet as actors claiming to support Trump stormed the Capitol, the President's communications to cease and desist were stifled and misrepresented:
According to a BBC report:
He clearly knew there were people in that crowd who were ready to and intended to be violent, and he certainly did nothing to discourage that. He not only did nothing to discourage it, he strongly hinted it should happen.

BBC
REALLY? And yet, here we have Trump's words:
Please support our Capitol Police and Law Enforcement. They are truly on the side of our Country. Stay peaceful!— Donald J. Trump (@realDonaldTrump) January 6, 2021
An article by RT on January 6 says:
After some of his supporters stormed Congress, US President Donald Trump said they had been wronged and mistreated but should go home in peace and "remember this day forever," as Facebook, Twitter and YouTube restricted his posts.

RT
Wed, 06 Jan 2021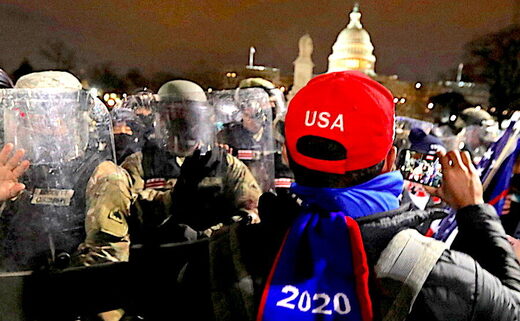 After some of his supporters stormed Congress, US President Donald Trump said they had been wronged and mistreated but should go home in peace and "remember this day forever," as Facebook, Twitter and YouTube restricted his posts.

"These are the things and events that happen when a sacred landslide election victory is so unceremoniously & viciously stripped away from great patriots who have been badly & unfairly treated for so long," Trump tweeted on Wednesday evening, as protesters were leaving the US Capitol and a curfew went into effect. "Go home with love & in peace. Remember this day forever!" he urged.
Twitter first restricted interactions with the tweet citing "risk of violence," – along with the perfunctory denunciation of Trump's claims about the election as "disputed" – before deleting it altogether for "violating Twitter rules."
Earlier, Facebook had deleted outright a video posted by Trump calling for people to peacefully retreat from Capitol Hill, also citing fear of "violence." YouTube likewise removed the video, saying it violated its recently announced policy "regarding content that alleges widespread election fraud."
Hundreds of demonstrators broke through the security fence around the Capitol on Wednesday afternoon, eventually making their way through the Capitol Police and breaching the Senate and House chambers and offices. One woman was shot by police and later died.
The lawmakers, who had been meeting to formally certify Democrat Joe Biden's victory in the 2020 election – which Trump maintains was plagued by fraud in half a dozen states – interrupted the session and were evacuated to the nearby Fort McNair Army installation.
Thousands of the president's supporters had gathered in Washington, DC on Wednesday to protest the "stolen" election and demand of Congress to not certify the votes.
Citing the unrest, a number of Democrats have called for impeaching Trump again and expelling any Republicans who might back him, while GOP members rushed to denounce attacks on "our democracy" and vowed to back Biden.
---
HERE IS THE BANNED MESSAGE (Yes it's there if you know where to look!)
Clearly then the BBC is wrong and Trump did everything within his power to discourage any violent action. Surely his loyal supporters would honor the President's wishes.
So who were the rioters?
Thanks to Josh Caplan for keeping the data safe and alive on his Twitter account!
Josh Caplan on Twitter: "NBC: Facebook removes Trump video addressing rioters from its platform" / Twitter