A predictably grim response to the opening of the US Embassy in Israel. So much for peace so far:
Gaza (CNN)Israeli forces killed dozens of Palestinians in bloody clashes at the Gaza border Monday in the deadliest day there since the 2014 war, as the US officially opened its Embassy in Jerusalem just 50 miles away.
At least 58 Palestinians died, according to the Palestinian Health Ministry, during protests over the Trump administration's controversial relocation of the Embassy from Tel Aviv, a move that has been praised by Israelis but has enraged Palestinians.
https://edition.cnn.com/2018/05/14/middleeast/gaza-protests-intl/index.html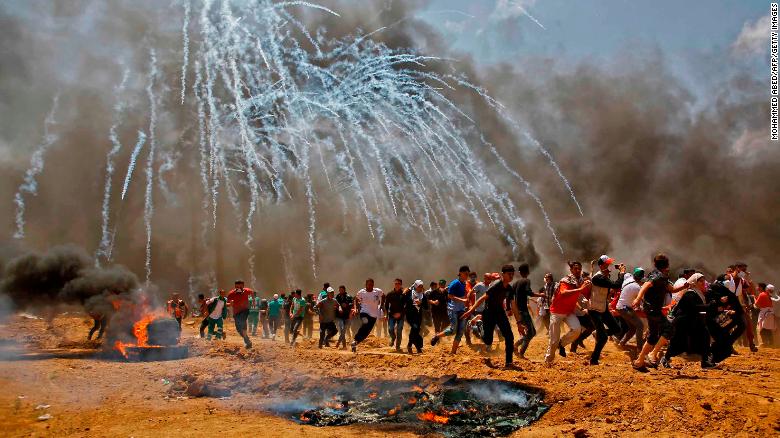 US 'blocks UN motion' calling for investigation into Israeli killing of Gaza protesters
https://www.independent.co.uk/news/world/middle-east/gaza-protests-latest-israel-palestine-trump-blocks-un-security-council-statement-investigation-a8352006.html
Gaza: Nakba day protests as Palestinians bury those killed in embassy unrest – live updates
Trump Keeps Claiming That the Jerusalem Embassy Will Bring Peace
His administration is refusing to own up to the real consequences that his decision will have on the Israeli-Palestinian conflict.
…It was jarring to behold, while all this blood was being shed, the emphasis on peace at the embassy dedication: Israeli singer Hagit Yaso performed "Od Yavo Shalom Aleinu" ("Peace Will Come To Us"). U.S. Ambassador David Friedman extolled the virtues of peace between Israel and the Palestinians. And Trump's son-in-law and adviser Jared Kushner said, "We will look back on this day" and remember that "the journey to peace started with a strong America recognizing the truth."
Clearly, Trump and his administration are refusing to own up to the real consequences that his decision will have on the Israeli-Palestinian conflict. But dissembling about the true costs of moving the embassy will only complicate American policy in the region…
https://www.theatlantic.com/international/archive/2018/05/trump-jerusalem-embassy-peace/560357/
The Israeli military admitted on Saturday to killing 16 Palestinian protesters who were taking part in a peaceful demonstration along the Gaza-Israel border, but later deleted the statement.
The official Twitter account of the Israeli military posted a tweet stating the brutal tactics unleashed on unarmed protesters a day earlier were "measured and calculated", even suggesting it "knew where every bullet landed".
https://www.alaraby.co.uk/english/news/2018/4/1/israeli-army-deletes-tweet-admitting-killing-palestinian-protesters