The NYT has making waves in a barrage of articles about Rosenstein and his alleged "wear a wire" remarks almost to the point where it becomes a deafening roar. But as this discerning opinion/analysis piece from Vox elaborates, the result may be to play the situation right into Trumps's hands: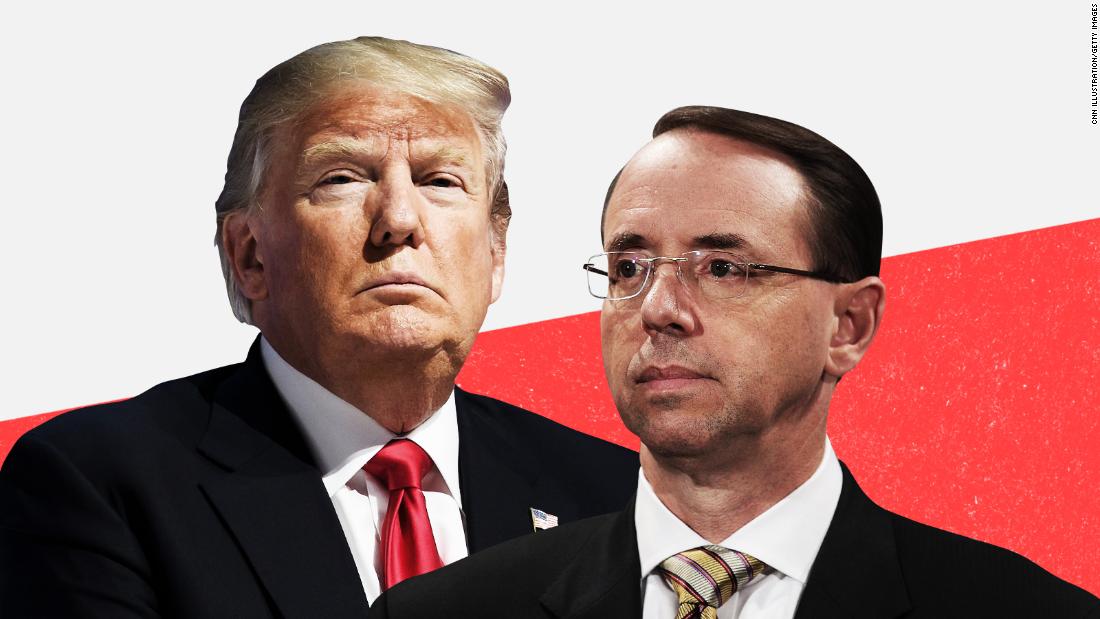 The Times's big new Rod Rosenstein story has major implications for Mueller's probe
Their sources said Rosenstein discussed taping Trump and invoking the 25th Amendment. But other accounts dispute the story.
By Andrew Prokopandrew@vox.com Updated Sep 21, 2018, 6:05pm EDT
Did Deputy Attorney General Rod Rosenstein seriously suggest to top Justice Department officials last year that someone should secretly tape President Donald Trump?
Or did he make an obviously sarcastic comment that he never intended anyone take seriously?
A new report from the New York Times's Adam Goldman and Michael Schmidt says it was the former — and adds that Rosenstein also talked about invoking the 25th Amendment to remove Trump from office. (Neither ended up happening.) The reporters' sources are anonymous people "briefed either on the events themselves or on memos" written by former deputy FBI director Andrew McCabe and others.
But a separate report from the Washington Post's Devlin Barrett and Matt Zapotosky quotes an anonymous source who was in the room and disputes the account given to the Times. Per this source, Rosenstein was rebutting a suggestion by McCabe that the Justice Department open an investigation into Trump, and said something along the lines of, "What do you want to do, Andy, wire the president?"
Who's right? The consequences could be enormous. It was Rosenstein who appointed Mueller as special counsel back in May 2017, and it's Rosenstein who continues to oversee Mueller's Russia investigation. Well before these new stories President Trump has privately mused about firing Rosenstein (or Sessions, or Mueller), so he could put someone he views as more loyal in charge of the Russia probe.
Trump has hesitated on actually following through with this. The new Times report, though, will undoubtedly infuriate the president — and could well provide him with the pretext he's long sought to justify Rosenstein's firing, and provoke a showdown over the future of Mueller's probe. And in the moments after the Times published it, speculation about a new Saturday Night Massacre once again arose in Washington….
…. the Times team doesn't seem to be quoting sources with firsthand knowledge. Instead, they attribute the report to "several people" who "were briefed either on the events themselves or on memos written by FBI officials" including McCabe."
As is all too often the case then, we have a lack of names and doubtful veracity. A story that reeks of disonformation and spin.
What the NYT suggests, further to the "wire" recording claims, is that Rosenstein intends to invoke the 25th Ammendment to remove Trump from office ( Section 4 of the 25th Amendment of the Constitution states that if the vice president and a majority of Cabinet secretaries decide the president is "unable to discharge the powers and duties" of the presidency, they can start a process that could remove him from office.) Rosenstein however denies any such intention.
What's the NYT up to? As Vox notes, the story seems perfectly engineered to give Trump the excuse to fire Rosenstein; something he has thus far shied away from doing. NYT certainly has been hammering away at this story incessantly for the past few days so this analysis seems logical. We shall see!