Read the following article and "new" theory carefully. Read between the lines.
But first here's my thoughts:
This subject is something I've encountered before with regards to many ancient civilisations. Climate change (usually cooling) is linked to a downfall. This has nothing to do with human induced climate change and everything to do with natural cycles. Note how right now we are in a "century class" Solar Minimum. Take a look at the Little Ice Age that triggered the Industrial revolution. After the Medieval Warm Period, this rapid cooling required a human survival response in the way of mechanized industry and an efficient transport infrastructure. People needed warmth, shelter, and an increased dietary intake to cope with the plunging temperatures and lack of a summer.
So allow me to speculate: Does this explain why China and the UN are so keen to specifically utilize a "climate emergency" false flag to mobilise the youth of the West?
Think about it: Convince young people that industry and big business is killing the planet with Global warming. Convince them that we need to cool the planet by reducing CO2, and sit back and watch Western civilization destroy itself.
The result? A generation of human cattle growing up convinced that "less is better". Which means more concentrated wealth for the controlling elite and a more docile and subservient population doing their bidding.
Whatever the case, the following article suggests that the authorities know damn well that climate change happens in cycles, with or without human intervention.
Martin Harris.
Here's the article from South China Post:

Geologists compare plant and lake bed data to ancient written records to try to explain ups and downs in Chinese civilization.
Stephen Chen
South China Morning Post
Tue, 24 Sep 2019 01:30 UTC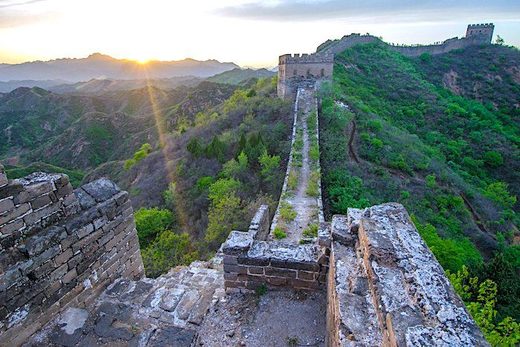 Researchers say that when 500-year-long sun cycles brought warmth, communities flourished, but when the Earth cooled, ancient societies collapsed
Scientists say they have found evidence beneath a lake in northeastern China that ties climate change and 500-year sun cycles to ups and downs in the 8,000 years of Chinese civilisation.
According to the study by a team at the Institute of Geology and Geophysics in Beijing published in the science journal Nature Communications this month, whenever the climate warmed, Chinese civilisation prospered and when it cooled, it declined.
While historians have used various social and economic factors to explain changes over the millennia, Dr Xu Deke, lead author of the paper, and his colleagues said that while people played their part, their study indicated that cycles in solar activity influenced human activity:
"We just point out there is a natural constraint on human efforts. We are in a much more capable position than our ancestors with the help of technology and machines in face of global cooling, but preparation must start now."
Previous research linking Chinese history to climate relied on written records, but ancient texts contained only subjective descriptions of weather and social development. The records also go back only so far – writing in China was not invented until 3,600 years ago.
For this latest study, the team and its leader, Chinese Academy of Sciences professor Lu Houyuan, took plant and lake bed sediment samples to track climate change over the centuries and compared them with written records. They visited Lake Xiaolongwan in the Changbai Mountains in Jilin province and studied the spread of plant life such as oak trees to map the transitions between warm and cold climate phases in northern China. By comparing the records and their research, the scientists found that the warmer the climate, the more prosperous the civilisation in terms of grain cultivation, animal domestication and human settlement.
Over the decades, researchers have established more than 4,000 carbon dating databases for archaeological finds in northern China. From these, the team obtained a benchmark for the intensity of human activity in different periods. Their study also found that 500-year cycles often ended with rapid climate cooling.
Whenever that happened, societies started to collapse and neither culture nor political systems could sustain them. This, Xu said, was a lesson for modern China.
"The most effective countermeasure is science and technology. We are in a much more capable position than our ancestors with the help of technology and machines in face of global cooling, but preparation must start now."
Citing this and earlier studies, Xu said that over the next few decades the Earth would enter 25 years of cooling, although greenhouse gases could slow the temperature drop.
Cooling would increase the size of polar ice caps and lower sea levels. Areas such as southern China could benefit as land would be reclaimed from the sea. But overall, a cooling climate would continue to have a more negative effect on civilisation than warming, Xu said.
Dr Liu Yonggang, a Peking University scientist who studies ancient climate, said the researchers had provided important new information and perspectives.
Human societies have gone through temperature cycles such as the Medieval Warm Period (900- 1300) and Little Ice Age (1300-1870) Liu said, but most of that data came from Europe, not China.
The study left one big question.
"Why do the sun's activities vary every 500 years? Nobody can explain. We need to know more about the inner working mechanism of the sun, otherwise the future remains unpredictable."