What's really behind the George Floyd killing and the worldwide protests and riots?
Having already outlined the correlation between the evolving "Lock Step Scenario" and the post COVID lockdown pushback (triggered by the George Floyd incident), I've taken a deep breath before plunging deeper into the plans-within-plans machinations at work behind the current situation. Now it's time to start forming a coherent picture.
by Martin Harris 6/6/20
It's always a tense time for white males like yours truly when racial issues are fired up. The immediate reaction is to venture outdoors with hat and dark glasses, coat-collar turned up. Oh the shame. It certainly doesn't help when the more radical elements of the Socialist movement inevitably get involved . Lecturer Dylan Asafo, writing for Newsroom, sets the tone, throwing in incendiary Socialist jargon: "White Supremacist state", "Toxic masculinity" (so it's not just a race issue but also a gender issue!?) and then chucks in "creed" and "gender identity". Did we leave anything out? The icing on the cake is the admonishment  "be careful not to co-opt, de-centre and misappropriate the black struggle,". Bit late Dylan, you already did.
And looking at the bigger picture, it clear that Asafo isn't the only misappropriator. A clue to who that may be, lies in Asafo's familiar beef about "Colonialism". A certain organisation left it's calling card for the cognisenti.
Is this really about "the black struggle"?
Do not misunderstand me.
The African-American struggle for equality is a genuine and worthy cause, and relevant now as it has always been. It is also a complex issue. Clearly far more complex than white folk beating up black folk, as may have been the case in days long gone. Black Lives Matter, as we intentioned as they be, might be barking up the wrong tree as the FBI data below demonstrates:
Does this mean Black-on-Black violence is the issue?
To repeat: It isn't that simple. Violence in primarily African American communities is rooted in deeper problems that go all the way to the top. And yes, as always, the Elie Rich white Boys Club is right up there. It's not an easy fix, despite the idealist claims of the Socialists, and violent revolution is definitely not a solution of any sort. But clearly someone is fuelling it for their own ends.
To make matters more complicated where the current situation is involved, it is NOT a "black and white" issue. Someone wants you to think otherwise.
It's quite clear however that some cops will happily demolish anyone who stands in the way, black or white, young or old:
The Racist White Cop myth:
We are all very familiar with the now iconic image of Chauvin, poster-boy of "white male supremacist toxicity" image, with hand in pocket and knee on the neck of Floyd.
But there were four officers involved in total. male? Yes. White? Look for your self: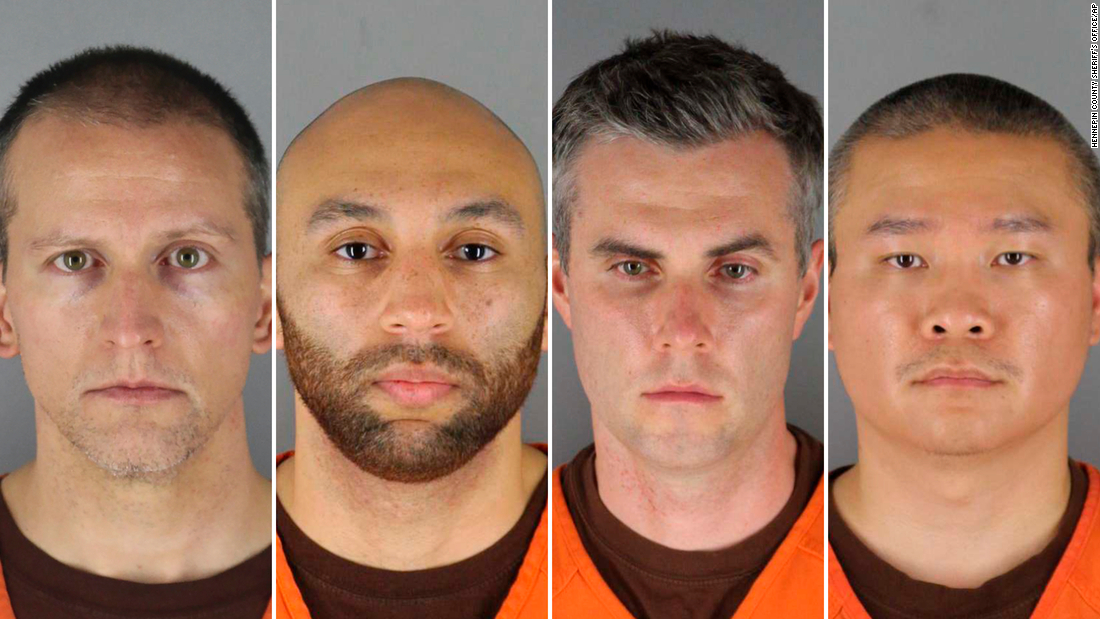 Right from the start, however, it was the somewhat enigmatic Tou Thau that aroused my curiosity. Considering he's "suspect number two" in this case, the media have been suspiciously quiet about this man. And that makes him a prime focus for this author.
Click the heading for link to an interesting article. Interesting that is, for it's scant detail on Thao:
However, Another source, NPR, provides some very enlightening background on Thau's community and place in the scheme of things.
This is a big story that the MSM is mostly ignoring, but one that demonstrates very aptly why this isn't a "Black and white" situation. In fact, there is a powder-keg of racial tension between Asian Americans and African Americans that is woefully under-reported.
 …his presence not only has heightened slow-burning tensions between the Asian American and black neighborhoods in the Twin Cities area but has also divided his own tightknit immigrant community — which also happens to be the largest urban Hmong enclave in the world…

…In America, there are only 18 clans of Hmong, an ethnic group from Laos, Vietnam and parts of China that sided with the United States during the Vietnam War. In the early 1960s, the CIA recruited Hmong to help keep the communist North Vietnamese out of neighboring Laos. In return, the U.S. promised to take care of them and their families. When Laos fell to the communists and U.S. troops pulled out in 1975, thousands of Hmong fled as refugees to neighboring Thailand and then resettled in the United States…

… there have been reports of Hmong leaders and activists "viciously" attacked online for their support for the black community and the Black Lives Matter movement. Some in the Hmong community argue "you can't be both pro-Hmong and pro-black," she says.

https://www.npr.org/2020/06/04/868978380/for-one-immigrant-community-george-floyds-death-isn-t-just-about-black-and-white
So even within the Hmong community there are divided factions and a strong element of racism towards African Americans as well as Anti-Western-Colonial feeling. Sounds like the perfect storm brewing. Tou Thao's record of brutality towards black suspects makes it very clear where he stands on the race issue. He certainly did nothing to halt Chauvin's treatment of Floyd and has been charged accordingly.
Divide And Conquer!
There are claims that Chauvin's Asian-American wife Kellie Chauvin and Thao are siblings. Her divorce lawyer Amanda Mason-Sekula has released a statement saying this is not true.
Where is Thao now?
It appears he is "no longer in Minnesota, United States" according to his lawyer. The plot thickens. The statement suggests he's no longer in the US at all. Other than that cryptic statement, we aren't told. looks like Chauvin's taking the fall and one is free to speculate about where Thao has escaped to.
"If you are Asian American and you are anti-black, it's probably because you see black people through a white hegemonic lens of racism, colonial-style racism," For Asian Americans to grapple with this moment, it will involve opening up a lot of personal and historical trauma of racism and colonialism.

 poet and activist Ed Bok Lee
As with anti-colonial resentment festering in many other places in the world, this is the perfect "injection point" for the Divide-and-Conquer tactics frequently employed by the CCP. The George Floyd killing looks like the perfect set-up. A "Toxic white male cop" poster-boy front and center, and an Asian-American accomplice, who promptly leaves Minnesota and seemingly the US, and our poster boy even has an Asian-American wife allegedly related, who has now filed for divorce. It has all the elements of a set-up.
China Feels the Heat
All this happens right at the time tensions are rising between China and the US and right when an international panel on the COVID situation is turning it's gaze (and steadily pointing finger) at China.
Even former NZ prime minister and UN representative who did much groundwork for NZ's trade with China, is performing a U-Turn:
"The [US-China] trade war has had a depressing impact on the global economy; if the aggro moves into that sort of security and defence realm, then be afraid, be very afraid."

Newsroom
With the world powers taking COVID advice to "wash your hands" to heart metaphorically, China is fast running out of friends and feeling the heat.
However, knowing China's penchant for waging war by assymetric (non military) means, the Floyd killing and subsequent protests do appear, as mentioned above, to be the perfect scenario for manipulation.
False Flag?
No, these cops are guilty and George Floyd is dead. Whether he died of complications or not is irrelevant: Kneeling on a dude's neck for nine minutes isn't standard procedure and still represents cop brutality any way you look at it. But was the event engineered and manipulated? I strongly suspect so.
Motive?
A diversion from international attention and criticism coupled with retribution for Hong Kong. "You stir up riots for us? We'll do it for you". Revenge. Conquest through division. War on the US without a single missile fired. Stealth without the jet planes. And not just the US, but anywhere perceived as "the Enemy", which to China means anywhere they can harness resentment of Colonialism.
And as the CCP reigns in Hong Kong and restores "order" (Totalitarian control), how it will gloat over Western failure to achieve the same results.
Someone is certainly fanning the flames, ensuring that peaceful protest is always elevated to violence and rioting. I hardly need mention the now infamous pallets of bricks on every street where protests are planned.
In conclusion, this is clearly not just a black and white situation either literally or metaphorically, but it has "red" all over it. But always remember to look deeper. Behind the CCP lurks a greater enemy…
Chinese-style technocratic communism is the agent of the New World Order master plan. The Elite families and bloodlines are it's aiders and abettors. In the US, Trump is the outsider, the Wildcard. What goes on his mind right now is unfathomable. This author does not pretend "inside knowledge" of Trump's plan, his role, or his next move. The first half of the year has been a wild ride, and it's only going to get rougher! MH