Penny Bright, the Auckland activist who nearly lost her house after refusing to pay rates for 11 years and whose motto was "open the books", died on Thursday night. She was 64.
By: Bernard Orsman
Super City reporter, NZ Herald.
5 October 2018
For the past 20 years, the hard-boiled activist and former sheet-metal welder made illegal connections for protesters whose water was cut off, got dragged by security guards from council meetings and harangued mayors, bureaucrats, police and the judiciary. She was arrested more than 40 times.
Bright died in Mercy Hospice on Thursday.
She stood, unsuccessfully, for the Auckland mayoralty and Parliament on numerous occasions.
"People think I've got this boundless energy. No, I'm extremely focused, like a heat-seeking missile," Bright said at her last bid for the mayoralty in 2016.
In a quest for full transparency of council spending on private sector consultants and contractors, the self-proclaimed "anti-corruption whistleblower" stopped paying rates on her house in 2007.
At the start of this year Auckland Council began enforcement action as a last resort and the house was listed for sale to recoup tens of thousands of dollars in unpaid rates and penalties.
Bright settled her case with council in May after seeking a rates postponement application at the 11th hour after offers closed on the Kingsland property she purchased in 1990.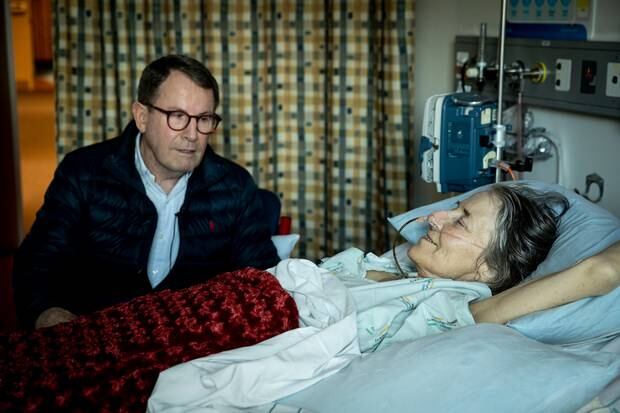 Earlier this year, Bright and fellow activist Lisa Prager spent five days sitting in a tree and occupying a digger on Quay St in a failed attempt to save trees being removed from median islands for a cycleway.
The veteran protester shot to prominence through the Water Pressure Group, set up to oppose the user-pays model for water introduced by the former Auckland City Council in the late 1990s.
In 2000, Bright and her Water Pressure Group colleagues rolled up outside the Bolivian Embassy in Remuera in their trademark vintage fire engine and attempted to hose the residence to show solidarity for locked-out water workers in the remote South American country.
One of her biggest victories was petitioning Parliament for a select committee inquiry that saw the end of Auckland City Council's water arm, Metrowater, putting up water bills to pay the council 'charitable payments' to hold down rates.
In a famous incident in 2002, Bright was one of several protesters evicted and dragged by security guards from the Auckland Town Hall on the instructions of Auckland City Mayor John Banks, who said he was not going to tolerate "boorish and childish behaviour by a small minority".
The pair made their peace at Auckland City Hospital last month when Banks accepted an invitation from his old foe.
He arrived with a large bunch of lilies, wrapped his hand into Bright's hand and said: "I haven't met anyone with more fight than you."
In her last days in hospital battling ovarian cancer, a life-threatening diabetic condition and perforated bowel, a weak, pale and struggling Bright kept fighting with spirit, energy and a strong belief.
She rattled off a Privacy Act request to Auckland Council to establish how much money was spent pursuing her in her rates dispute.
This was followed by a petition to Parliament calling for an urgent inquiry into transparency at Auckland Council with help from a close friend, Lisa Er, and National's Nikki Kaye.
In an interview with the Herald in 2014, Bright was asked what philosophies she lived by and said: "I hate lies and I detest liars. I don't do gossip or personal comments. I don't do political dirt. I don't hate anyone, it's just behaviours I dislike.
"Am I tough? Yeah. Vulnerable? Not particularly. I'm not a spiritual person, I'm a character person. Integrity is really important to me. An ex-Cabinet minister once described me as 'pathologically honest' but what's wrong with that? I'm consistent and persistent more than most and I don't back down."
At the end, Bright was cared for by "wonderful" staff in the public health system and longtime partner, Julian. One of her last requests was an epitaph on her gravestone: "She gave it a***holes."
Thanks to NZ HERALD for this obituary.